They first ask, "So anong ginagawa niyo sa Filipino Freethinkers?" ("What do you do in Filipino Freethinkers?") The second most-asked question is, "What is a freethinker?"
A lot of my friends have actually been getting curious ever since last year's disadventures got substantial media attention and a fair share of 'likes' on Facebook. While the second question may be answered by a quick trip to Wikipedia, the first question is not so easy. It's what most people ask me first when they hear about my affiliation with FF, and I'm not always sure how to answer them.
I could describe the bimonthly meetups, with the debates and the ethics and the nerdiness and the general debauchery that follows. I also eventually have to disclose that FF is made up of atheists, agnostics, skeptics, and progressive theists. Responses have been pretty accepting and non-violent so far, but sometimes I hold my breath for a tiny fraction of a second, bracing for a torrent of hate and condemnation for my lack of belief. Other times I feel naughty for saying it, as if I had just uttered the name of an indie band that nobody should ever know about, except me. I guess I like the idea of atheists being so rare in this country, it's doubtful that they exist at all. Maybe I just like being compared to unicorns and dragons.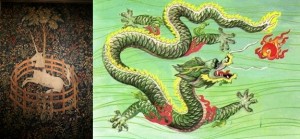 Left: The Unicorn is in Captivity and No Longer Dead. From The Hunt of the Unicorn, 1494 – 1505. Right: Chinese Azure dragon.
But we do exist. I think it's time other people realize that too, especially in UP Diliman. While there are a variety of student organizations in UP catering to almost every major belief system, there isn't one for those without beliefs.
FF-UP Diliman is barely a year old, but we've already co-organized a film festival; put up posters both tasteful and incendiary around campus; guested on the Psych O'clock Habit radio show on DZUP; and marched at the Lantern Parade as, well, Green Lanterns.
This year we're giving a shout out to our fellow freethinkers lurking around in UP.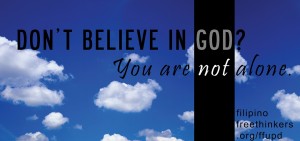 Modeled after the 2008 billboard campaign of American Humanist Association and Freethought Action.
FF-UPD's February membership drive is for those who've felt a little lonely in their non-belief. It's also for those who have been scoffed at, laughed at, sneered at, and wide-eyed-mouth-agape stared at. For those who have lost their friends as a result of losing their faith, and miss the fellowship. Or for those just looking for a group of like-minded people to hang out with.
You are not alone. You can hang out with us!
What's that? You were asking where the posters are in UP? How can you miss the huge tarps at the University Avenue and near Vinzons Hall?
Wait. That's right, they're not there anymore. Probably stolen – happens a lot, apparently.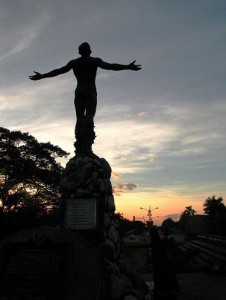 Oble welcoming a sunset, or wringing his hands at what happened. (Photo by dyordz @ Flickr)
Don't worry, iskolars. We will not be silenced! We'll put up new ones soon. Meanwhile, you can check out our Facebook group for the latest news and updates. See you around campus!
Meanwhile, I can only wish the people who stole the tarp for use in their makeshift homes give it a long, hard look. They could also be feeling a little lonely.