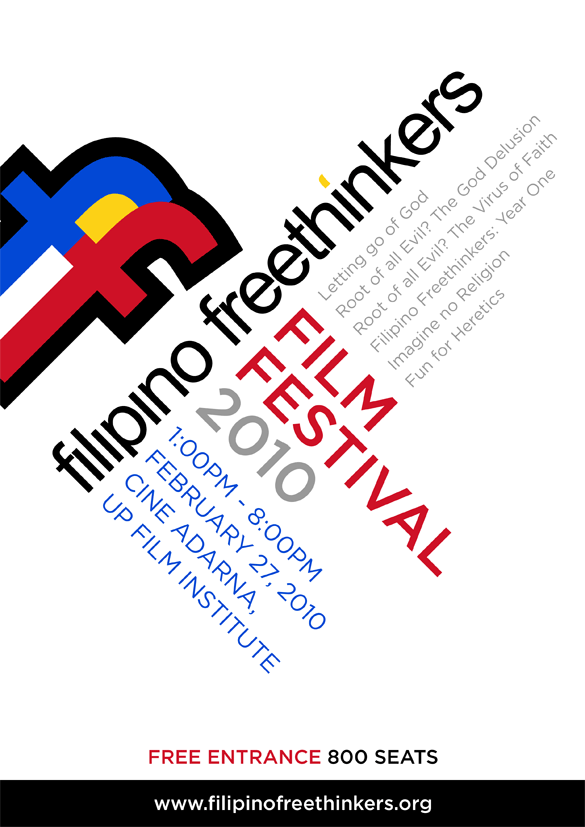 Filipino Freethinkers Film Festival 2010
Challenges Religion, Celebrates Reason.
A series of films about faith and belief will be screened at UP's Cine Adarna on February 27… but these films will leave you with more questions than answers.
The Filipino Freethinkers Film Festival is the first film fest in the Philippines intended to challenge your thinking about belief, faith, and reason.
The films include a bittersweet one-woman show by a former Saturday Night Live cast member, a documentary exploring the link between religion and terrorism, and a couple of short films originally screened at the American Atheist Film Festival.
"Most of us don't question our faith or religion at all," says Ryan Tani, president of the Filipino Freethinkers. "But when religion increasingly conflicts with reason in society, we need a public discussion of the merits of faith. Especially we Filipinos, who live under laws shaped by the Catholic Church whether we're Catholic or not.
"Showing films that question that assumption, that faith is always a good thing… I think that's a really important first step to get the debate going," says Tani.
The films screened during the Filipino Freethinkers Film Festival are intended to reach out to both the religious and the irreligious, questioning long-cherished assumptions on both sides of the debate.
Letting Go of God, a one-woman show by Saturday Night Live alumna Julia Sweeney, is a funny yet touching tale of Sweeney's conflict with the Catholic faith of her childhood. The story (with its surprising conclusion) is told in an upbeat monologue style that the New York Times called "searing and bracingly funny".
Root of All Evil? is biologist Richard Dawkins' look at how religious faith serves as a primary motivator for evil in today's modern world. Throughout the two-part film, we see Dawkins taking on religious fanatics of all stripes, including disgraced pastor Ted Haggard, and building the case for humanity being better off without faith.
Fun for Heretics showcases bits of classic comedy, shocking songs and searing rants from all around the world, with clips from George Carlin, Monty Python, David Cross, Bob Odenkirk, Woody Allen, Roy Zimmerman, Marcus Brigstocke, Edward Current, and many more.
Imagine No Religion blends the funny and the serious to tackle the conflict between faith and reason. The film includes excerpts from the late Theo Van Gogh & Ayaan Hirsi Ali's "Submission" and Lisa Seidenberg's moving memorial to 9/11, "In the Name of God."
The Filipino Freethinkers Film Festival is on for one day only, on February 27, at Cine Adarna from 1pm to 8pm. Admission is free.
Schedule:
1:00 – 1:10 Opening: Challenge Religion
1:10 – 2:20 Fun for Heretics
2:20 – 3:10 Root of All Evil Part 1: The God Delusion
3:10 – 4:20 Imagine No Religion
4:20 – 5:10 Root of All Evil Part 2: The Virus of Faith
5:10 – 7:20 Letting Go of God
7:20 – 7:50 Filipino Freethinkers: Year One
7:50 – 8:00 Closing: Celebrate Reason
To RSVP, go to the Facebook Event Page: Filipino Freethinkers Film Festival 2010.