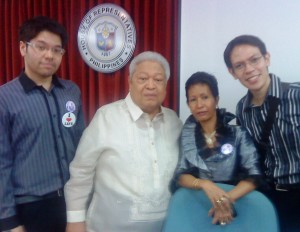 Ken and I attended the recent congressional hearing on the RH Bill. I was to give a speech as a resource person representing the Filipino Freethinkers.
At first, I was afraid that my short talk on the importance of secularism in deciding the RH Bill would not be relevant. But my fears were allayed as soon as the representatives  and resource speakers started talking.
Anti-RH advocates kept referring to Catholic teachings not only on moral distinctions but even on scientific definitions. Legislators — even the Pro-RH ones — argued about what the Pope's recent statements on contraceptives really meant, as if this had any relevance to the issues. To add insult to injury, they had Jo Imbong of the CBCP give us their official interpretation.
It was only when Dr. Sylvia Claudio spoke that secularism was brought into the discussion. She was answering a question posed by Rep. Rodolfo Biazon: Does anybody disagree that life starts during fertilization? After answering the question, she reminded the audience that not all Filipinos are Catholics, and that passing the RH Bill will benefit all Filipinos, especially women, regardless of religion (or lack thereof).
But her reminder seemed to fall on deaf ears. Rep. Biazon continued to ask the same question, as if Dr. Claudio hadn't said anything, and the other representatives and speakers kept making arguments based on religious premises.
When my turn came to speak, I made sure to emphasize what most in the room seemed to forget: our government is a secular one. Which is why it came as a surprise when Willy Arcilla, who spoke in an individual capacity, claimed that the Philippines is not a secular state.
What he said would have been funny if it weren't for the Anti-RH individuals there who agreed with him, and the many misinformed Filipinos who seem to think the Philippines is a province of the Vatican. I will not spoil any more of what he said so that you can understand the shock and disgust that I experienced listening to him.
Transcripts and more insights will be added as updates to this post soon. For now, here are the speeches I mentioned above. I hope that the combined sense of my speech and Dr. Claudio's is enough to counter the irrationality of Willy Arcilla's calls for theocracy. Enjoy!
Dr. Claudio – Pass the RH Bill (mp3)
Red Tani – Is the Philippines a democracy or a theocracy? (mp3)
Willy Arcilla – The Philippines is NOT a Secular State (mp3)