With barely six months left on Mrs. Arroyo's tenure as the President of this country who openly pledge allegiance with RP Catholic Church, let me provide you some of her infamous activities and anecdotes I gathered from the Web on how she constantly abuse the duly constitutional separation of church and state during her term since 2001. Notwithstanding the fact the we are a sovereign nation under democracy resulted from the solid history of our national heroes, like Rizal and Bonifacio, who fought not only for national liberation, but also against the shackles of medieval religion brought by the catholic Spain..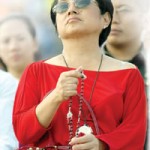 On June 2003 – In an interview with Time, Mrs. Arroyo, when asked whether she found her job difficult, said she did, "but God having put me here, I'm undeterred in moving our nation forward."
On August 1, 2004 – President Gloria Macapagal Arroyo attended a Holy Mass for the celebration of the Day of God, the Father and the Novena for the Holy Octave of Consecration to God, the Father held at the Ceremonial Hall of the Malacañang's Palace.
On 2005 – In an interview by Cable News Network (CNN) President Gloria Macapagal-Arroyo infamously admitted that the late Carol Wojtyla a.k..a Pope John Paul II also influenced some of her policies on issues ranging from the death penalty to population control.
January 7, 2005 – President Gloria Macapagal-Arroyo delared this date as a National Day of Prayer and Mourning for the thousands of victims of the deadly tsunami that struck neighboring countries last December 26, 2004.
On February 2006 – President Gloria Macapagal-Arroyo told the Foreign Correspondents' Association of the Philippines (FOCAP) that her consistent opposition to capital punishment is due to her Catholic upbringing.
June 26, 2006 – President Gloria Macapagal-Arroyo gave Pope Benedict XVI a statue of Our Lady of Guidance and a copy of a law she recently signed outlawing the death penalty in the Philippines, telling him, "These are two expressions of the faith of the Filipino people."
August 23, 2006 – President Gloria Macapagal-Arroyo offered Bishop Camilo Gregorio of Batanes, to be part of the Melo Commission, a fact-finding body that would investigate political killings in the country, however the Bishop turned down her offer.
On her 2007 – On State of the Nation Address (SONA) She mentioned on her closing statement "Pagpalain tayo ng Diyos at ang dakilang gawaing hinaharap natin." (God bless us all and the glorious works ahead of us).
October 21 2008 – Under Executive Order No. 203 President Gloria Macapagal-Arroyo declared Eid al-Fitr or end of Ramadan of Muslims to be a regular holiday.
On 2008 – President Gloria Macapagal-Arroyo, at the Association of Southeast Asian Nations' 100 Leadership Forum, was quoted saying:
"There are many ways to skin a cat. Some ways are more Roman Catholic than other ways, so I use the Roman Catholic way each time."
On 2008 – On State of the nation address speech(SONA) President Gloria Macapagal-Arroyo quoted a line from Pope Benedict XVI's encyclical Deus Caritas Est.
July 20, 2009 – President Gloria Macapagal-Arroyo has designated a special day for the Iglesia ni Cristo commemorating the founding anniversary of the sect.
September 12, 2009 – She declared "National Day of Prayer for Peace and Sanctification of Spiritual Leaders"
September 21, 2009 – She declared National Holiday in Philippines in observance of the Eid'l Fitr 2009 for the Muslims.
November 27-28 2009 – Gloria Macapagal Arroyo has declared a two consecutive Public Holidays in ARMM in the observance of the Eidl Adha or the Feast of the Sacrifice which is observed by the Muslim Community.
Let us NOT forget the secular sins of the Arroyo regime, and do yourself and your country a favor, please consider the secular stance of your presidential candidate and other politicians regarding the issue of separation of church and state when you cast the vote in May 2010.