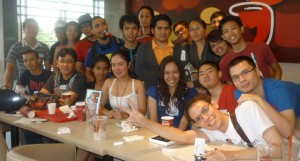 Two meetups, one cup! This weekend will be a busy one as there will be two meetups. We're having a special project discussion on Saturday and then a book/pub crawl on Sunday!
Saturday: A Meetup of Minds @ Starbucks
RSVP on Facebook
Date: Saturday, September 18, 2010
Time: 1:00pm – 4:00pm
Venue: Starbucks (6th floor near the cinemas), Shangri-La EDSA Plaza Mall
This special Saturday meetup is to discuss a film documentary project setup by John Paraiso (Pinoy Atheist) and our supporter from New York, Marissa Torres.
A film maker is interested in creating a documentary about atheism in the Philippines, we'll be discussing ideas for the documentary.  Since this is the Freethinkers, agnostics, deists, humanists, and liberal theists are welcome to make their voices heard!
Be creative about your ideas for the documentary, this is how we'll 'come out of the closet'!
This is a joint event with the Pinoy Atheist Facebook group.
Sunday: The Bookworm Crawl
RSVP on Facebook
Date: Sunday, September 19, 2010
Time: 1:00pm – 4:00pm
Venue: Starbucks at One E-Com Center, beside Mall of Asia
Since the Saturday meetup is already at Shang, we'll be having this meetup at Mall of Asia. Also it segues neatly into hitting the Manila International Book Fair at SMX for the post-meetup plans.
To avoid the MoA crowd, we'll be having this meetup in the Starbucks at One E-Com Center (map)
This meetup follows the regular informal format. As I've run out of discussion topics, I prostrate myself before your collective wisdom and humbly plead for suggestions for discussion topics.
In the meantime, I'm stealing from our young rascals from UP Diliman.
Discussion Topics:
1. Vigilante justice against poaching.
2. Neurosexism – How different are men and women at the level of the brain? What does this mean for human relations? (moderated by Jessica Balaquit, maybe)
3. International Blasphemy Rights Day
4. A Vegan Says, 'Let Them Eat Meat'
Post meetup plans are to go to the book fair and then dinner & drinks at MoA. If you're new and interested in the post-meetup but can't make it for the scheduled meet, please indicate in a comment below so we can contact you.
* Newbies are welcome.
* Discuss anything with fellow freethinkers.
* Look for the FF sign (or the group of smart, sexy people).
* There is no required age, religion, philosophy, or IQ level.
* Discussions are informal yet intelligent (most of the time).
* You don't have to talk; you can just sit in and listen.
* You don't have to buy anything from Starbucks