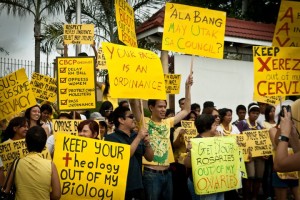 Keep Your Theology out of My Biology; Get Your Rosaries out of My Ovaries; 'Ala Bang May Utak sa Council; and the crowd favorite, Your Face is an Ordinance
Last April 9, the Filipino Freethinkers (FF) helped kick some ideological ass at the second protest versus the infamous Ayala Alabang Barangay Ordinance 01. Our placards were a hit the second we walked up to the village's Madrigal Gate, lending a good bit of snark to the morning's events.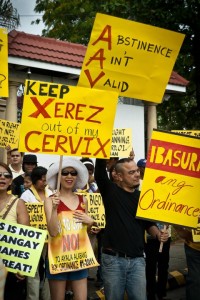 Keep Xerez out of my Cervix; Abstinence Ain't Valid
The protest kicked off with a lot of chanting among villagers and non-villagers. It was a heartening mix of people–upper, middle, and lower class alike…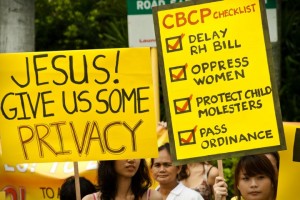 Jesus! Give Us Some Privacy; CBCP Checklist: Delay RH Bill, Oppress Women, Protect Child Molesters, Pass Ordinance
…united in their stand against the barangay council's blatant violation of church-state separation and their outright mangling of the truth regarding reproductive health.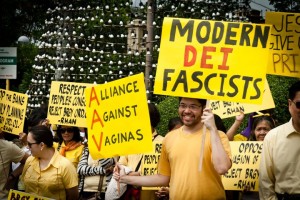 Alliance Against Vaginas; Modern Dei Fascists
Kenneth, FF's RH Bill Committee Head and a member of Silly People's Improv Theater (SPIT), was especially happy that day…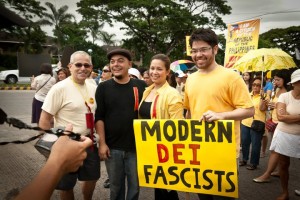 Thespian titillation at its finest
…after having met Broadway star and outspoken RH ally Lea Salonga.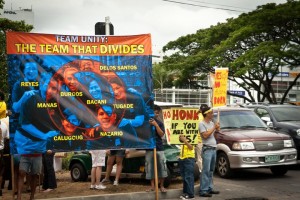 The ironically-named "Team Unity," composed of the barangay council members responsible for the ordinance
Apart from the chanting, villagers also encouraged motorists to honk their disapproval of the ordinance…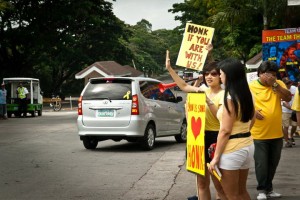 Honk if You are with Us!
…which many motorists did!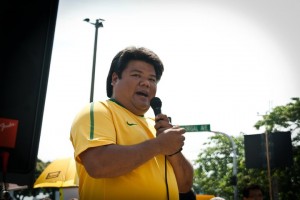 The chanting was soon followed by a brief string of speeches from some pro-RH personalities, such as Jay Ignacio, whose footage of the anti-ordinance villagers' meetings and the latest ordinance hearing have made the rounds online…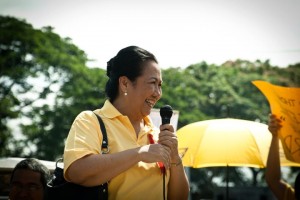 …former Health Secretary Esperanza Cabral…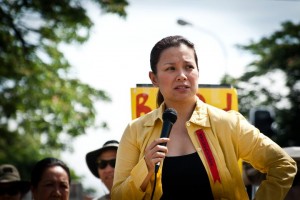 …Lea Salonga…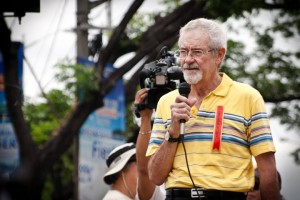 …Peter Wallace, one of the most prominent foreign businessmen in the country…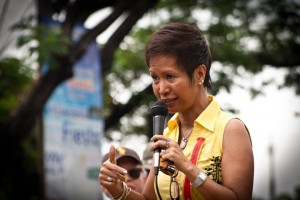 …Democratic Socialist Women of the Philippines (DSWP) Chair Elizabeth Angsioco…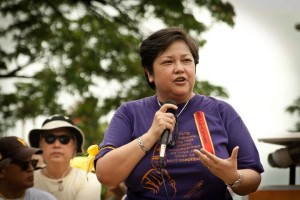 …and Dr. Guy Claudio, Director of the University of the Philippines' Center for Women's Studies, Senior Faculty Adviser of FF-UP Diliman; co-founder of the Likhaan Center for Women's Health, prominent member of the Akbayan Party List…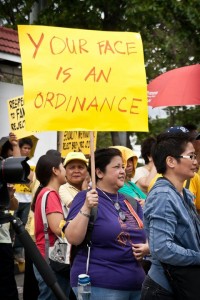 Word up.
…and the person responsible for The Most Awesome Pic Evar.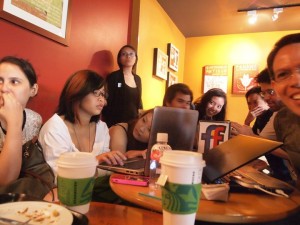 The following day, FF banded together for its fortnightly meetup, which generated one of the liveliest discussions we've had in a while. This came as no surprise, however…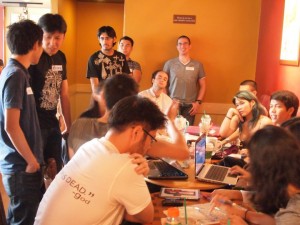 …thanks to the day's main topics: Medication to Boost Your Morality, and Rights for Ugly People.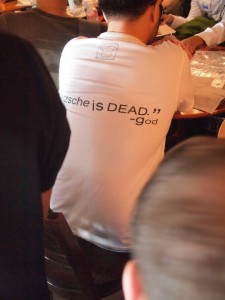 Kenneth is an Episcopalian, as evidenced by his shirt
Even Kenneth made sure to attend the meetup, despite the understandable aftershock of having met Kim/Eponine/Fantine/Jasmine/Mulan in the flesh.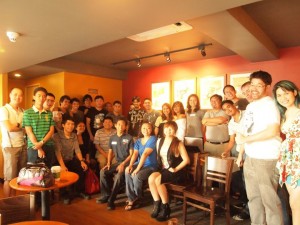 In the end, whether rallying on the streets or engaging in discourse, the Freethinkers know how to make good use of the typical weekend–sans drugs and violence!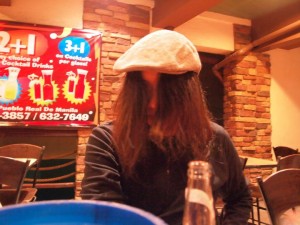 Although moments like this one can't be avoided. Let's call it an occupational hazard.
Photos courtesy of Garrick Bercero, Jeiel Aranal, and Patrick Charles Rigonan