UPDATE (10/4/12) [Pepe Bawagan]:
The following image is a screenshot from the Google Web Cache of another Facebook Page named PNP National Hotlines Directory (Metro Manila+Provinces):
Previously, it could be seen that the post in the shot had been deleted, but now the entire page is gone. Thankfully, a copy of the page dated September 5 is still available from Google Web Cache. (Here's a screenshot of the page from Google Web Cache, in case the actual one has expired.)
Given this new evidence, the "long con" theory seems to have become a lot more complicated and a lot less believable.
—
UPDATE (10/1/12 9:37pm): The "Philippine National Police (PNP)" FB Page is up and running again, but without the controversial thread.
The reputation of the Philippine National Police (PNP) is in danger now, thanks to some comments made by the admin of the Facebook page titled  "Philippine National Police (PNP)." I'm being careful about how I worded the previous sentence because the admin of the Facebook personal account belonging to "Philippine  Nat'l Police" has released the following statement denying any "official connection" to the PNP FB page (emphasis added):
Press Statement of
PCSUPT GENEROSO R CERBO JR
PNP Spokesperson
Chief, Public Information Office
October 1, 2012

The PNP categorically denies any official connection to a message which appeared in one particular facebook account found by many to be offensive, threatening and malicious.

For one, official statements of the PNP to include press releases intended for public consumption are published
in digital form through our PNP official web site www.pnp.gov.ph or Facebook under the account name pnp.pio.

Further, said official statements can be released individually to our media friend both in hard and digital copies in the name of the PNP Public Information Office.

We shall have this incident investigated ASAP. You will be updated on the developments.
The phrase "official connection" immediately struck me. Do they have an unofficial connection to the "Philippine National Police (PNP)" FB page? If they do, that would explain why the page was taken down so quickly — it usually takes much longer for FB to act on page removal requests.
In a recent post on Rappler, PNP spokesman Chief Supt Generoso Cerbo Jr. — who wrote the press statement quoted above — told Rappler that "statements made on their Facebook page are not official. [emphasis added]" Does "their" mean they do own the page? Another source of confusion is Cerbo's next statement:
"Di kami nagrerelease ng statement through Facebook," he said, adding that the PNP only makes statements through their official website. (We don't release official statements through Facebook.)
But as of this writing, Cerbo's statement has not been posted on their official website. It has only been released on the PNP PIO personal account. Should I then suspect the PIO statement on FB to be less than official?
Another thing that bugs me is how Cerbo keeps referring to official statements. The Big Brother comments on the "Philippine National Police (PNP)" FB page were just that: comments. No one seriously takes comments as official statements.
Imagine that something similar happened to your organization. You discover that there's an FB page posing as someone who is affiliated with your group, and worse, they're posting comments that make you look bad. How do you respond? You wouldn't say, "We don't post official statements on Facebook." You would say something like this: "We don't know who is operating that Facebook page, but we can assure you that we have nothing whatsoever do do with it, and that its admin is nothing but a fraud."
That the PNP statement says something less than this adds weight to my suspicion that the "Philippine National Police (PNP)" FB page, however unofficial, was run by someone connected with the PNP. According to several FB users who have frequented the page, it contained informative posts and was updated more frequently than the PNP PIO account. It also had almost 9,000 likes, dwarfing the PIO personal account's 824 subscribers. Lastly, compare the headers used by each: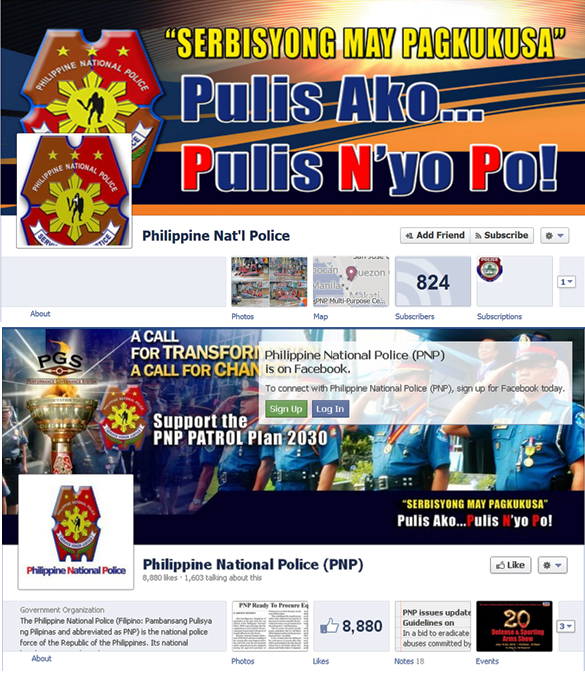 I don't particularly like either, but the second one sure looks like more effort was put into it. Considering this, together with the amount of content and interaction in the "Philippine National Police (PNP)" FB page, it's no wonder that many still think it was authentic despite PNP saying otherwise.
This isn't the first time the authenticity of "Philippine National Police (PNP)" FB page was questioned. Technogra.ph posted an article arguing that the page was fake because (1) the behavior of the admin was too abusive for an official PNP page, and (2) PNP didn't link to the page from their official website. Both are true, and I particularly agree with their first reason. PNP also took flack for what the FB page had said back then. But that was almost three months ago, and I don't think the PNP was unaware of what had happened.
So why haven't they taken action on it until now? And why was the page only taken down now? I hope these questions and more are soon answered by PNP's investigation into this. And I find it interesting that the fascistic technologies and manpower mentioned in the "unofficial" FB page will be a big help to them now. (It's also interesting that the PNP statement did not deny any of the statements made by the fake FB page. Are they really monitoring citizens this early?)
Lastly, I'd like to commend the allegedly fake admin of the "Philippine National Police (PNP)" FB page. I read that the page had been up since Jan 10, 2011. (The first activity of the PNP PIO account was on Jan 6,2011.) It takes dedication to attract 8,880 likes in only a couple of years. If this was indeed a long con meant to troll PNP, fool thousands of Filipinos online, including the reporters at Rappler and GMA News (they wrote a post about this but have since taken it down), then all I can say is well played, sir.
____
Check out Google's cache of the allegedly fake FB page. Really seems legit.