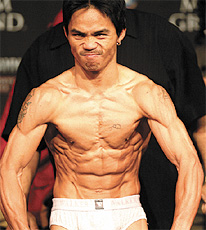 "I don't want to use a condom. Using a condom means I'm just using you for sex."
That's what my friend's boyfriend told her when she suggested protection. She thought it was romantic. When he found out she was on the pill, he was insulted and asked her, "Why? Are you afraid of having my baby?" After they broke up, during the requisite mourning period, I listened to her talk about the highlights of her just-ended relationship, and concluded the guy was a chauvinist ass. She had no idea, for some reason, and the fact that I could still see his douchiness despite her sugar-coating (she still liked him) meant he must've been more of an ass than I could determine from what she was telling me.
That was almost a decade ago. Since then, my observations of my friends' relationships have brought me to the conclusion that there were more guys like that out there. And these friends are mostly from middle-income families, and dated men who were more or less in the same income bracket, with the same level of education. I remember when I was little, I asked our laundrywoman why she had so many kids. She told me that whenever she refused to sleep with her husband, he'd accuse her of having an affair, so she just gives in to him. She didn't even mention contraception or family planning, and I'm pretty sure she wasn't too aware of either their existence or that they applied to her. I'm tempted to generalize and say that my friend's ex's and our laundrywoman's husband's attitude is typical of Filipino men's attitude towards women's choices regarding reproduction and sexuality, but I won't because (1) I want to be an optimist, and (2) I like to hang out with more enlightened men, and these guys make me optimistic.
And then Manny Pacquiao decided to join the Reproductive Health Bill debate.
An undisputed national hero and distinguished gentleman representative from Sarangani, Manny Pacquiao was staunchly against the RH Bill. He quoted the Bible, and said, in effect, that any attempts to curb reproduction was against the will of his god. While we're not sure how the personal religious beliefs of this pregnancy-challenged man have to do with us uterus-carrying citizens, people pointed out that his wife Jinkee has admitted to being on the pill. Now he's bragging that he made his wife Jinkee stop taking pills and have more kids. (I wonder if my friend would've found this romantic too.)
Now if Cong. Pacquiao's constituents meant to elect someone who insists on controlling his wife's reproductive health choices, I suppose that's democracy for you. What puzzles me is this: Pacquiao is an international superstar. He has fans all over the globe. He's a celebrity's celebrity; Hollywood big shots are falling over themselves to meet him. Why oh why does he not have the sense to hire — or listen to — a public relations agent or firm who will tell him that this sort of misogynist douchbaggery isn't going to be good for his reputation? Granted, it's nothing close to Mike Tyson's conviction for rape, but for us Filipinos, this is an insult to women in general, and not because Pacquiao's a boxing superstar but because he is an elected public servant who is tasked to improve the lives of his constituents — male and female. It's difficult to expect him to protect women's rights and welfare when he seems unconcerned about flaunting his blatant sexism all over the place.
The Pacquiaos are luckier than most Filipino couples — they actually have the choice of buying any form of legal contraceptive there is. Hell, they can buy an entire condom factory if they want to. Not everyone has that luxury. A lot of families are so poor they can barely afford three meals a day, much less birth control pills (mine are less than PhP 50 for a whole month's pack) or condoms. The Reproductive Health Bill is mostly to help them, to give them a choice on whether to have 1, 2 or a dozen children. Or none, if that's what they prefer. And the Pacquiaos can afford to feed, clothe and spoil the heck out of their four children. If they have two dozen more kids, the Pacquiaos can give each of them a mansion with servants. Thousands of families in the Philippines can barely afford to feed theirs. All Cong. Pacquiao can talk about is his god's will, not even trying to propose solutions to the problems of families having to feed more kids than they can afford. Or the problem of an average of 11 women dying every day due to birth complications. Not all those who are anti-RH Bill are opposed to artificial contraceptives in general, and they don't have to be. Cong. Pacquiao didn't have to flaunt his staunch opposition to pills, but he seems to be trying to show off for his church's bishops, so much so that his wife's reproductive choices had to get dragged into this. Jinkee Pacquiao now says she's against the RH Bill and that she has stopped taking pills. Her husband says they fought over the issue of her taking pills, but that they're of one mind now concerning the issue of contraception, and one wonders if Manny Pacquiao, national hero and boxing superstar, will make sure to get her pregnant soon just to prove it.
Tania writes about stuff at The Entropy Blog.
Resources:
Jinkee Pacquiao says Pacman didn't know she took birth control pills before – Spot.PH
Pacquiao: Jinkee and I fought over RH bill – Yahoo! news
Pacquiao slips RH advocates' jab on Jinkee's pill use – Inquirer.NET
Pacquiao opposes RH bill while Jinkee pops birth control pills – Philippine News
Jinkee stopped taking birth control pills, Pacquiao says – GMA News