Event: Filipino Freethinkers – Metro Manila South Meetup
Date: Sunday, February 10, 2013
Time: 4:00 PM to 7:00 PM
Place: Union Jack Tavern, 2nd Level, Festival Mall, Alabang, Muntinlupa City
RSVP on Facebook 
Greetings from the Filipino Freethinkers – Metro Manila South Chapter! We are a group of freethinkers residing in the equally interesting but underrated areas of the Metro and its neighbouring provinces. We invite the residents of Muntinlupa, Parañaque, Las Piñas, the nearby sub-urban towns of San Pedro, Sta.Rosa and Biñan in Laguna, and even people from Cavite and Batangas to join our meetup this Sunday, February 10.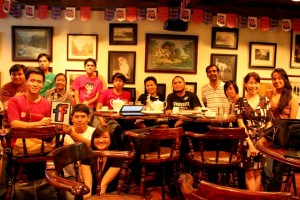 Discussion Topics:
1. What we oppose in the Cybercrime Bill
2. AIDS/HIV – the health problem, the stigma, and how the FF – MM South can help promote awareness of the problem.
3. Carlos Celdran and the guilty verdict for offending religious feelings
4. Videos/Comic Strips for Freethinking 101 Series
There is no need to pay or order anything, but Union Jack Tavern gives you the best 'British pub experience' available in the country, and the food and drinks are reasonably-priced.
Just look for the FF sign or the bunch of cool, smart, sexy people gathered together in the bar area. Minors (people below 18yo) are discouraged from purchasing and consuming alcoholic drinks, and all attendees are expected to abide to our code of conduct during the meetup and post-meetup.
There is no pressure to speak during the discussions, and you can just listen and observe. Even so, if you feel like voicing out your opinion on a given topic, just raise your hand and signal the facilitator, and you'll be given a chance to speak. We want everyone to have an intellectually-stimulating, productive, and fun experience, and to enjoy the community experience of being among other freethinkers.
See you there!