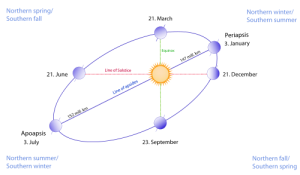 This is the first article for my debut column entitled "Freethinking Me," which appeared in SunStar Davao last Feb 22, 2013. In my column, I hope to explore issues and educate the public regarding reason, science, and secularism in the country. You can check out "Freethinking Me" every Friday. 
"IF THE earth were 10 feet closer to the sun, we would all burn to death. And if it were 10 feet further out, we would all freeze."
Fact or Fiction?
I have seen this posted around the internet, and in the past, have heard quite a few speakers tout this "fact" as a testament to the precision and perfection of God's design in creation. The listeners are astounded and nod their heads in agreement to the wonder of it all.
Read the rest of my article here.
—
Image from Wikimedia Commons