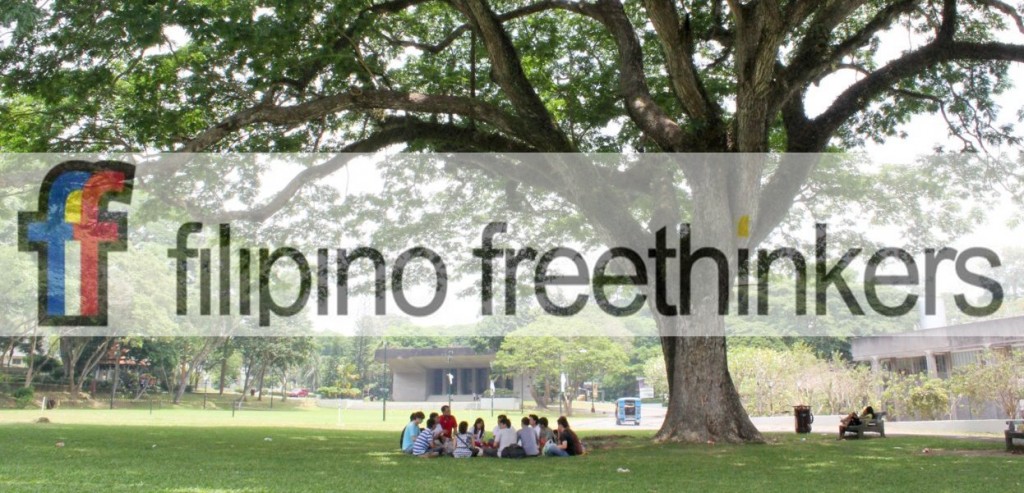 Location: Student Union Building, Mangga Rd, University of the Philippines Los Baños, Laguna (Google maps)

Date: Thursday, June 14, 2012

Time: 6:00pm – 9:00pm
Vast tracts of farmland. A university with its own forest reserve with endless fish pens on the side.
The University of the Philippines Los Baños (UPLB) does seem an unlikely place to be a haven for several dozens of atheists, agnostics, progressive believers etc. In fact, I thought there would never be any of them in this still very Catholic town turned agriculture research center.
But I was wrong. It's been half a year already since the first Filipino Freethinkers (FF) meetup in UPLB last mid-December 2011. And since then, we've been meeting almost twice a week, and have successfully formed an informal group of devoted secularists, with members from both the academe and the student body.
Arguably being among the most active FF student chapters, for the last 6 months:
we have held a total of 9 meetups, where we've intellectually discussed a wide range of topics, from the truth behind conspiracy theories to the viability of interfaith relationships;
we have started a documentary on the spread of pseudoscience within the university;1
we attended a freethought convention, where we met several fellow freethinkers;
we toured our Metro Manila friends around the campus, and went to places that even we haven't gone to before;
we even held picnics on the campus grounds, and had fun along with it;
and, most importantly, we have built a safe space within the university and its immediate vicinity, where we have actively promoted tolerance and made friendships, regardless of our own personal political ideologies, religious beliefs or lack thereof.
We have so much more to do now that the semester is starting again, and we would love to let you be a part of it.
If you adhere to the ideals of freethought, the separation of church and state, and religious tolerance—or, as we like to put it, reason, science and secularism—you are very much welcome to attend FF-UPLB's First General Assembly, and be among our charter members.
Don't worry, membership is free2—I know, that's how desperate we are to get you—and it's open to practically anyone, irreligious or not. And what's best is we don't haze people! Hooray.
It's going to be held inside the Student Union Building, UPLB, Los Baños, Laguna on June 14, 2012 from 6:00pm to 9:00pm. We shouldn't be too hard to spot. Just look for a bunch of sexy3 and intelligent people hanging around the first floor of the building. Otherwise, simply look for the FF logo.
See the event page or checkout our Facebook group for more information. Alternatively, you can contact me at 09153707740, or e-mail us at [email protected].
We would love to hear from you.
Notes:
As much as I would like to say more, I cannot for I fear that it would preempt the release of the said documentary. So just stay curious.
Terms and conditions apply. (I'm kidding.)
Seriously.