This is the group shot from the meetup last February 5: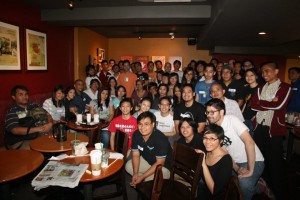 There were over 80 attendees that afternoon, and our usual haunt at Starbucks Ansons Ortigas was barely able handle all of that sexiness. So, we felt it was high-time to try out a non-commercial venue the next time around, and what better place could there be to house a bunch of heathens for some sweet, sweet sacrilege than this —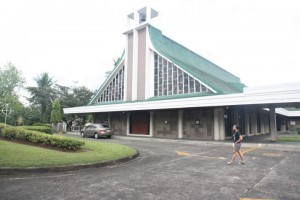 For the following Sunday meetup, the Freethinkers went to church. But it was a very special one — the Holy Trinity Episcopal Church in Makati, which is the home church of FF's Reproductive Health Advocacy Director Kenneth Keng and his family.  The Episcopalians — basically the Anglican Church when set outside of England — are a more liberal bunch compared to Catholics. They have female and homosexual members in their clergy, and generally have a more progressive stance on social issues.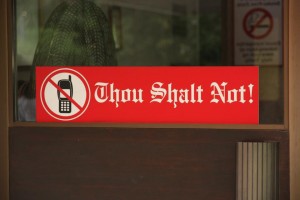 It's very refreshing to see a church with a sense of humor.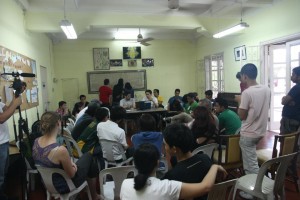 Kenneth and his sister Michelle were awesome enough to arrange for a meetup in their church's parish hall, a large room where they usually tag-team as Sunday school teachers.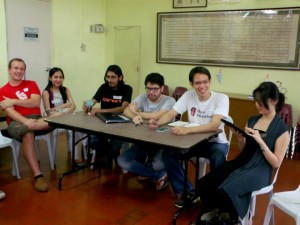 Lot of great discussions that day. Thanks to the hall's acoustics, which was an honest relief from all that blender-whirring from coffee shop meetups past, we could easily converse on several rich topics, from the People for the Ethical Treatment of Animals' controversial new advertisement, to the current Republican war on contraception in the US.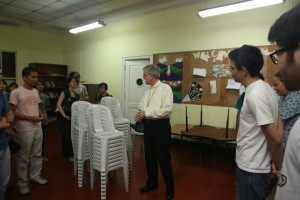 Bishop Arthur Jones, the Presiding Rector of Holy Trinity, even dropped by to say hi. We very much enjoyed his short speech about always being inquisitive and open-minded. I personally would like to hear one of his sermons — tales of fire and brimstone they're likely not.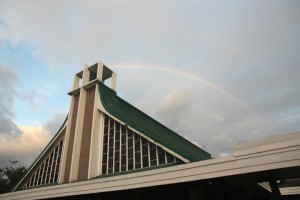 And it seems the Episcopal god took kindly to us, what with the rainbow that appeared when the meeting was adjourned!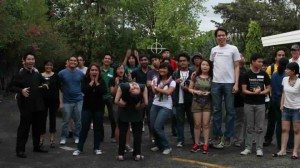 And then Red got insecure and started levitating to put us in our place. We're sorry we doubted you, Red!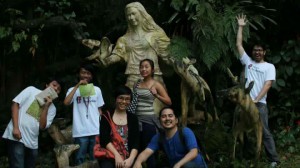 The following day, a few of us from FF's Coordinating Council made the trek to Los Banos, Laguna to attend the meetup of the group's burgeoning UP- Los Banos Chapter. Chapter director Api, along with LB Freethinkers Ryan, Peter, JM, and Karl were very, very kind enough to take us on a tour that afternoon. We started at the International Rice Research Institute, where we saw a 6,000-year-old grain of rice at the museum; then visited the UP Carabao Center for a quick snack; then took a leisurely trek by the woodsy roads near the Forestry.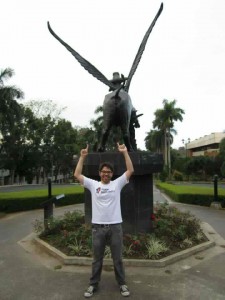 We also saw an Abueva sculpture called the "Pegaraw," although we were smart-asses and pointed out that the winged beast was more of a Pegasus-carabao hybrid, hence it should be called a Pegabao instead, but Kenneth was obviously delighted by it regardless.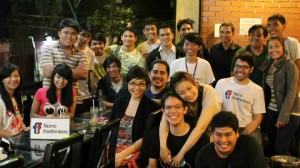 Later that evening, we met up with the rest of the chapter for a nice meetup, where we discussed conspiracy theories, Red's Satanic Challenge, and the chapter's exciting new projects, which include accreditation in the university. We had dinner and drinks after, and while we had to head back to Manila at the end of the night, we knew we'd definitely be visiting more and more often. Awesome job, FF UPLB!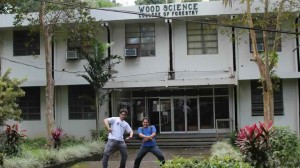 And I'm so sorry you had to see that.
—
Photos courtesy of Frank III Manuel, Patrick Charles Rigonan, and Chris Villanueva Sienna