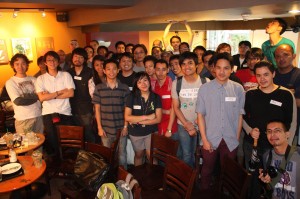 Location: Seattle's Best, Katipunan Greenwhich, Katipunan (Google map)
Date: Sunday, September 25, 2011
Time: 2:30pm – 5:30pm
Emergency update: Seattle's Best is full, we're moving the meetup to Greenwhich in Katipunan, beside National Bookstore
This week we'll be having a meetup at Katipunan. We'll be discussing prayer bans, recent statements made by PNoy on LGBT adoption and Philippines being ranked as one of the best places in the world for women.
Update
Any Atenean freethinkers out there, we'd love to have you at our meetup! We're trying to revive a student-led effort to found a campus chapter for FF inside the Loyola Schools. We need freethinking secularists, humanists, atheists/agnostics/apatheists, progressive theists, etc. from the university willing to dedicate their intelligence and some of their time to making this movement become sustainable and dynamic enough to apply for accreditation in around two years.
If you're interested to spearhead or join the initiative, attend this weekend and get to know your fellow founding members, then filling out this registration form.
Discussion Topics
– Ateneo Chapter
– France Bans Prayer in Streets
– Gay Adoption
– Philippines one of the best nations for women
– Quickshots: Blasphemy, Planking
After the meetup we go for dinner and beer drinking but we're not sure where yet. If you're not a meetup regular and can't make it for the meetup but would like to go for the post meetup, please indicate on a post in the wall or comment so we can contact you.
Got questions about the meetup? Contact us at 0927 323 3532
* Newbies are welcome.
* Look for the FF sign (or the group of smart, sexy people).
* There is no required age, religion, philosophy, or IQ level.
* Discussions are informal yet intelligent (most of the time).
* You don't have to talk; you can just sit in and listen.
* You don't have to buy anything from Seattle's Best.