With the president throwing his support behind the reproductive health bill, it is more important than ever to show our support for the RH bill. Learn more about it, spread the word and show your fellow citizens that you think the reproductive health bill matters. Next week, there will be two events held at UP Diliman. On Tuesday, take part in a fun run organized by the APO sorority to show your support for the RH bill. On Thursday. the authors of the Senate RH bill will hold a forum on the bill. If you can come to both, please do!
"Fast Track The RH Bill Now!" Fun Run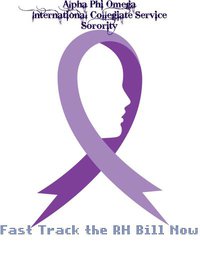 When: 13 September · 09:00am – 11:00am
Where: UP Diliman, Sunken Garden Grandstand
RSVP on Facebook
The Alpha Phi Omega (APO) International Collegiate Service Sorority is making a stand for the RH bill! To raise awareness and declare their support, the UP APO Sorority is holding, "Fast Track the RH Bill Now"! Next Tuesday, September 13, they will be holding a short program in front of the UP Sunken Garden grandstand followed by a fun run around the UP Academic Oval.
Run for RH! Fast track the RH bill now!
RH as HR: A Public Forum on Senate Bill 2865
When: 15 September · 09:30am – 12:30pm
Where: UP Diliman, Malcolm Hall
RSVP on Facebook
The UP Institute of Human Rights and along with other organisations are holding a public forum on the senate version of the reproductive health bill. The authors of the senate RH bill, Senator Miram Defensor-Santiago and Pia Cayetano will be speaking about it. Dr. Raul Pangalangan and Esperanza Cabral will also be at the forum.
Attend the forum and get informed about the bill with perspectives from the legislators, law experts and healthcare professionals. Ask questions, speak up, spread the word!
Seats are limited on a first come first serve basis. RSVP at 926-6230/411-3151 (Mina or Kiko)