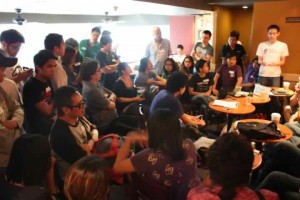 Location:  Fort Bonifacio Starbucks, 32nd Street (in front of MC Home Depot) (Google map)
Date: August 28, 2011
Time: 2:30pm – 5:30pm
Well folks, today is the last day of voting for the Globe Tatt awards! If you haven't yet, please do vote for us if you find our work building a secular community and working for a secular government in the Philippines valuable. The prize we could win would go a long way into helping us make more of an impact in our advocacies! We're not just nominated for The One, please take the time to vote us for The Advocate too! Thanks for your support!
It's a roving meetup so we're holding it at the big Starbucks at Fort Bonifacio. Come join us for a rowdy intellectual chat! Whatever the result of the Globe Tatt awards, the community we've been building with you folks is the most important part of the FF. Do come down, we want to meet more freethinkers!
Discussion Topics
– Ang paggamit ng wikang Tagalog/Filipino
– The RH Bill as a Priority Bill
– The state of LGBT rights in the Philippines
– Religious offense and the limits of free speech
Links to articles with more information on the discussion topics will be posted later.
After the meetup we go for dinner and/or drinks. We're not sure where we'll go yet for this meetup. If you're not a meetup regular and can't make it for the meetup but would like to go for the post meetup, please indicate on a post in the wall or comment so we can contact you.
Got questions about the meetup? Contact us at 0927 323 3532
* Newbies are welcome.
* Look for the FF sign (or the group of smart, sexy people).
* There is no required age, religion, philosophy, or IQ level.
* Discussions are informal yet intelligent (most of the time).
* You don't have to talk; you can just sit in and listen.
* You don't have to buy anything from Starbucks.