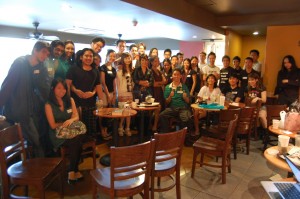 Location: Starbucks Valero, Salcedo Village Makati (Google map)
Date: Sunday, June 19, 2011
Time: 2:30pm – 5:30pm
Hey folks! We're taking the meetup to Makati this weekend, do drop by for some juicy, intellectual discussions! We'll be talking about privacy, privates and nationalism! Well, one of these things is not like the other. As this is a new meetup location we're not sure where we'll be going for the post meetup. We've got a contact number if you need directions/want to find us for the post meetup: 0927 323 3532
Discussion Topics
– Peeping Tom Ethics
– Why Won't You Show Me Your… ?
– Nationalism (on Rizal's Birthday!)
– Open Mic
We're not sure where we're going to for the post meetup but we'll have dinner and drinks somewhere. If you're not a meetup regular and can't make it for the meetup but would like to go for the post meetup, please indicate on a post in the wall or comment so we can contact you. Got questions about the meetup? Contact us at 0927 323 3532.
* Newbies are welcome.
* Look for the FF sign (or the group of smart, sexy people).
* There is no required age, religion, philosophy, or IQ level.
* Discussions are informal yet intelligent (most of the time).
* You don't have to talk; you can just sit in and listen.
* You don't have to buy anything from Starbucks.