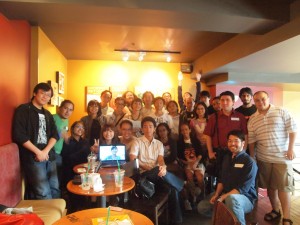 Location: Coffee Bean, University Mall (Google map)
Date: Saturday, March 26, 2011
Time: 2:30pm – 5:30pm
We're going roaming! This week's meetup will be held near De La Salle University's main campus for students interested in establishing a Filipino Freethinkers chapter in DLSU or just anyone curious about what happens in meetups. It's an interesting week as the RH Bill finally goes into debates in the House of Representatives as well as being "A" Week. Non DLSU students are more than welcome to join us!
Discussion Topics
– RH Bill / Ayala Alabang Ordinance Updates
– Should age-appropriate sex education be mandatory?
– "A" Week
– Science Literacy in the Philippines
After the meetup we usually go for dinner and beer drinking. We don't know where the post meetup will be but we'll see where Taft takes us. If you're not a meetup regular and can't make it for the meetup but would like to go for the post meetup, please indicate on a post in the wall or comment so we can contact you.
* Newbies are welcome.
* Look for the FF sign (or the group of smart, sexy people).
* There is no required age, religion, philosophy, or IQ level.
* Discussions are informal yet intelligent (most of the time).
* You don't have to talk; you can just sit in and listen.
* You don't have to buy anything from Coffee Bean.