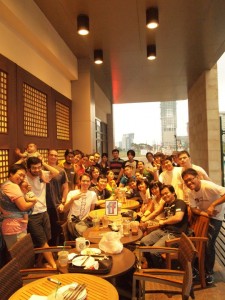 Location: Starbucks at Anson's (Google map)
Date: Sunday, January 30, 2011
Time: 2:30pm – 5:30pm
Third time's the charm as we hit three meetups this January. Perhaps you've hesitated to go to the meetups before because you don't quite know what to expect at the meetups. Well, there's always the fun, intelligent (most of the time) conversations between like minded people and theres the added bonus of not eating babies.
Discussion Topics
– Scientific Concepts for Improving the Cognitive Toolkit
– Disabilities as Culture
– Freethinkers Day (Jan 29)
– We are Legion: Ethics of Multiple Online Accounts
After the meetup we go for dinner and beer drinking at Congo Grill at El Pueblo (see map). If you're not a meetup regular and can't make it for the meetup but would like to go for the post meetup, please indicate on a post in the wall or comment so we can contact you.
* Newbies are welcome.
* Look for the FF sign (or the group of smart, sexy people).
* There is no required age, religion, philosophy, or IQ level.
* Discussions are informal yet intelligent (most of the time).
* You don't have to talk; you can just sit in and listen.
* You don't have to buy anything from Starbucks.