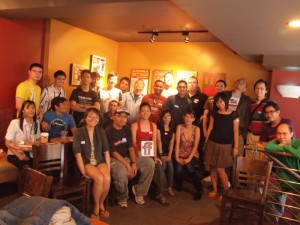 Location: Starbucks at 32nd Street, Fort Bonifacio (Google map)
Date: Saturday, January 15, 2011
Time: 2:30pm – 5:30pm
We're getting back into our stride with the second meetup of the year. We'll be having the meetup at a new location in Fort Bonifacio, at the new Starbucks along 32nd Street. There are two Starbucks along 32nd street, the meetup will be in the second floor of the one nearer to Market Market. If you're interested in leading a discussion, please indicate here or on the comments section.
Discussion Topics:
Arguments for the Existence of God
Parenting, Freethinker Style
* Newbies are welcome.
* Look for the FF sign (or the group of smart, sexy people).
* There is no required age, religion, philosophy, or IQ level.
* Discussions are informal yet intelligent (most of the time).
* You don't have to talk; you can just sit in and listen.
* You don't have to buy anything from Starbucks.
As always, we'll be having post-meetup dinner and beer drinking. There are a few restaurants that are walking distance from the meetup location but we're unsure of where we'll be going. If you can't make it for the meetup but would love to go for the post-meetup dinner and beer drinking, please leave a note on the comments or event wall so we can tell you where it is.