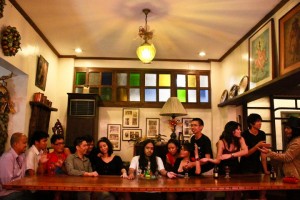 Location: Seattle's Best, Katipunan (Google map)
Date: Saturday, December 11, 2010
Time: 2:00pm – 5:00pm
RSVP on Facebook
We're going back to Katipunan as our wandering meetup location. As was discussed last meetup, we're moving to a new and improved timeslot to let people sleep in during the weekends! This meetup will be at Seattle's Best Katipunan from 2PM to 5PM, all subsequent meetups will follow this schedule. Meeting place will be at the second floor, look for the group of sexy and smart people!
We're having the meetup at Katipunan specially to welcome freethinkers from Ateneo de Manila University to join us as we start our latest Filipino Freethinkers university chapter at Ateneo.
Discussion Topics:
– FF Ateneo de Manila University chapter
– Media reactions to the pride march
– "We are not a secular state"
– Ethics of resources and raising a child
After the meetup proper, we'll retire to one of the many restaurants around Katipunan for dinner and drinking! If you're not a meetup regular and can't make it for the meetup but would like to go for the post meetup, please indicate on a post in the wall so we can contact you.
* Newbies are welcome.
* Look for the FF sign (or the group of smart, sexy people).
* There is no required age, religion, philosophy, or IQ level.
* Discussions are informal yet intelligent (most of the time).
* You don't have to talk; you can just sit in and listen.
* You don't have to buy anything from Starbucks Seattle's Best.