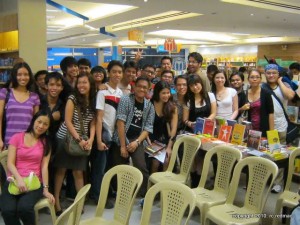 RSVP on Facebook
Location: Starbucks at Anson's (Google map)
Date: Sunday, November 28, 2010
Time: 1:00pm – 4:00pm
Another meetup at our home (Starbucks @ Anson's) after an eventful two weeks! Having Satan cast out of us and then throwing your own excommunication party sure makes a person hungry for great discussions!
Once again we'll be having post meetup dinner and beer drinking at Congo Grill El Pueblo's unless someone else comes up with a place around Ortigas. Monday is a holiday so this is going to go into the morning!
Discussion Topics
LGBT Pride March counter fundie funtimes and supporters video shoot
Saturnalia party! (a very FF xmas party)
Respect is a dirty word
Ethics Question Grabbag!
We'll be doing a video to show that we're allies of the LGBT in the Philippines, no matter what your gender may be.
http://www.youtube.com/watch?v=yUDhldbJepM
Newbies are welcome.
Look for the FF sign (or the group of smart, sexy people).
There is no required age, religion, philosophy, or IQ level.
Discussions are informal yet intelligent (most of the time).
You don't have to talk; you can just sit in and listen.
You don't have to buy anything from Starbucks.
Post meetup dinner and drinks would is most likely at Congo Grill, El Pueblo. If you're not a meetup regular and can't make it for the meetup but would like to go for the post meetup, please indicate on a post in the wall so we can contact you.