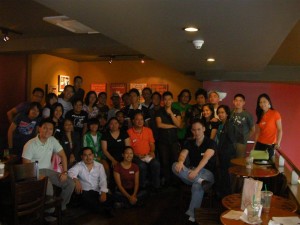 RSVP on Facebook
Location: [email protected] 6750 (Google map)
Date: Saturday, November 13 2010
Time: 1:00pm – 4:00pm
Now that we're settled in our new home at Anson's its time for the meetup to go a wandering again! This week we'll be hitting Makati and going to the book launch of Dr. Margie Holmes, a leading psychologist in the Philippines and a friend of the FF.
The meetup will be at the 2nd floor of Starbucks in the 6750 at Makati, the building between Rustans and Shangri-la Hotel. After the meetup proper at 4 o'clock we'll be heading to Powerbooks Greenbelt 4 for the book launch (Facebook event page).
Post meetup plans are still up in the air but there is a high probability it will involve dinner and beer! Anybody know a decently priced restaurant/bar in Makati?
Discussion Topics:
Minutes from the Science Interest Group
Secularism in Pisay
Ethics of Manipulation: Social Engineering and Pick Up Artistry
We are LGBT Allies video
If you're not a meetup regular and can't make it for the meetup but would like to go for the post meetup, please indicate in the comments so we can contact you.
Newbies are welcome.
Look for the FF sign (or the group of smart, sexy people).
There is no required age, religion, philosophy, or IQ level.
Discussions are informal yet intelligent (most of the time).
You don't have to talk; you can just sit in and listen.
You don't have to buy anything from Starbucks.