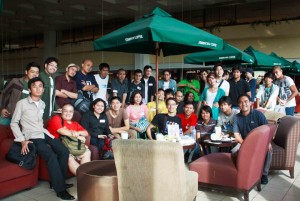 RSVP on Facebook
Date: Sunday, September 4, 2010
Time: 1:00pm – 4:00pm
We'll be experimenting with the Saturday meetups, trying to take this fellowship of freethinkers around different venues. This week we'll be meeting at Seattle's Best Katipunan on the suggestion of French. The meetup area should be at the second floor; as always look out for the group of smart, sexy people!
Google Map to Seattle's Best Katipunan
The discussion Topics are just a suggestion. Like pants.
1. Anti-vaccination
2. Book-wars: The CBCP Natural Family Planning book
3. International/regional involvement
4. Feed a beggar day!
5. Film School: "The Last Exorcism"
* Newbies are welcome.
* Discuss anything with fellow freethinkers.
* Look for the FF sign (or the group of smart, sexy people).
* There is no required age, religion, philosophy, or IQ level.
* Discussions are informal yet intelligent (most of the time).
* You don't have to talk; you can just sit in and listen.
* You don't have to buy anything from Seattle's Best.
If you can't make it for the meetup schedule, the FF'ers will most likely have post-meetup dinner and drinks at one of the many restaurants around Katipunan. If you're new and interested in the post-meetup but can't make it for the scheduled meet, please indicate in a comment below so we can contact you.