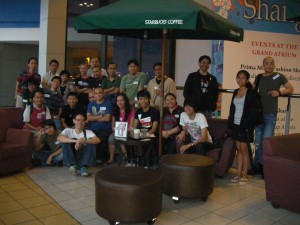 RSVP on Facebook
Date: Sunday, August 22, 2010
Time: 1:00pm – 4:00pm
Location: Starbucks (near cinemas) at Shangrila EDSA Plaza Mall
Discussion topics aren't set in stone. They're like the ten commandments that way!
1.  "Don't Be a Dick"
2. Culture wars
3. ???
4. Profit!
* Newbies are welcome.
* Discuss anything with fellow freethinkers.
* Look for the FF sign (or the group of smart, sexy people).
* There is no required age, religion, philosophy, or IQ level.
* Discussions are informal yet intelligent (most of the time).
* You don't have to talk; you can just sit in and listen.
* You don't have to buy anything from Starbucks.
Even if you can't make it for the scheduled meetup you can always catch us for the post-meetup dinner and drinks at the Krocodile Grill in Shangrila Mall.