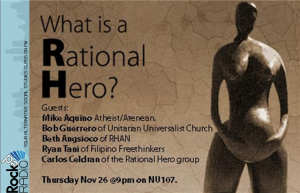 *UPDATE*: This has been postponed to Dec. 3, 9:45pm to make way for discussions on the Maguindanao massacre.
Tune in to Rocked Radio at NU107 to hear answers to the question:
What is a Rational Hero?
Thursday, Nov. 26 TBA, 9-11pm
Guests:
Bob Guerrero of Unitarian Universalist Church
Beth Angsioco of Reproductive Health Advocacy Network
Carlos Celdran of Rational Hero
Anything you'd like us to discuss? Tune in and call or leave a comment below. Thanks!