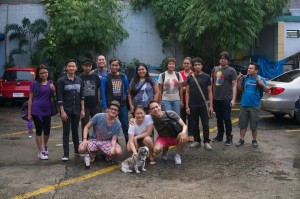 Location: Holy Trinity Church, 48 McKinley Road, Forbes Park, Makati
Date: Sunday, October 4, 2015
Time: 2:30pm – 5:30pm
Google Map: http://goo.gl/wCMAl
Topics:
– Peeple is Yelp for people [http://www.wired.com/2015/10/peeple-the-thing-versus-peeple-the-app/]
– Martin Shkreli and the increasing average cost of medicine [http://www.washingtonpost.com/news/wonkblog/wp/2015/09/25/the-drug-industry-wants-us-to-think-martin-shkreli-is-a-rogue-ceo-he-isnt/]
– The Perils of Binary Thinking [http://www.telegraph.co.uk/culture/film/filmmakersonfilm/8526584/Adam-Curtis-the-perils-of-binary-thinking-interview.html]
– Raunchy Topic of the Week
After the meetup we usually go for dinner and drinks somewhere nearby. If you're not a meetup regular and can't make it for the meetup but would like to go for the post meetup, please indicate on a post in the wall or comment so we can contact you.
Got questions about the meetup? Contact us at 0927 323 3532
> Newbies are welcome, and admission to the meetup is free. (Note: this does not apply to the food and other activities we may be having)
> Early birds get to play board/video/party games with the group.
> Look for the FF sign (or the group of smart, sexy people).
> There is no required age, religion, philosophy, or IQ level.
> Discussions are informal yet intelligent (most of the time).
> You don't have to talk; you can just sit in and listen.