Yesterday the Department of Health (DOH), the institution that is supposed to be raising the standards of health for Filipinos, caved in to an institution that is very adamant on lowering the standards of health for Filipinos: the CBCP. It seems that when the bishops say "jump," the DOH asks "how high?", instead of doing their job for the Filipino people:
Here's something that some Catholic bishops will be happy about with respect to the DOH on Valentine's Day.

Health Secretary Enrique Ona on Monday said the DOH will not be distributing free condoms on Tuesday as couples nationwide mark Valentine's Day with dinner dates, lavish gifts and other gestures of affection.
While DOH Secretary Ricky Ona pays lip service to Catholics who use contraceptives despite the Church, he seems to miss the point that the DOH is supposed to be concerned about the health of the Filipino people and not their holiness:
"Responsible sex means you engage in sexual practices that are acceptable to you and your religious beliefs," he added. "But still the use of condoms and other artificial contraceptives, which the Catholic Church rejects, was still upon the discretion among couples," said Ona.

"If they want to use it, then they should buy it themselves," he added.
The lack of reproductive health education in the Philippines makes the DOH's condom distribution not just about giving away condoms. The DOH's condom distribution is a way for the DOH to educate couples who might not know about safe sex. The taboo of sex (thanks, Catholic church!) could also make couples less likely to buy contraception out of the needless guilt the Church inspires. The poor also might not be able to afford contraception. That secretary Ricky Ona would tell people to buy condoms makes it seem like he doesn't know the DOH's mission:
To guarantee equitable, sustainable and quality health for all Filipinos, especially the poor, and to lead the quest for excellence in health.
So, DOH. What does the H in your name stand for? Is your mission to serve the health needs of the Filipino people? Or are you here to enforce the "holiness" imposed by the Catholic church?
If you're angry after reading about the capitulation of the DOH to the Catholic bishops who could really care less about the health of the Filipino people, do something with your rage. Call the DOH, email them. Let them know that they serve the Filipino people. Remind them about their mission. Tell them to work for our health, not the conception of holiness held by the CBCP.
Here are their contact details. If you're able to call them at (+632) 651-7800, do it. If you can't, write them an email. Just give them a Valentine's Day that would remind them that they work for the Filipino people. Not the CBCP.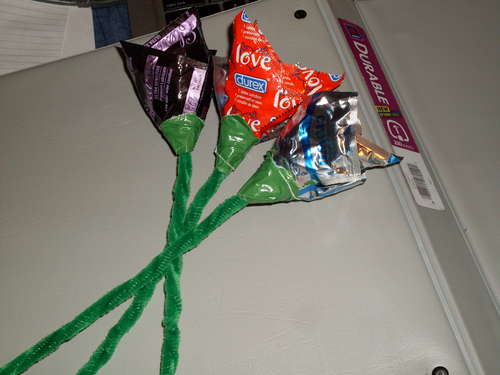 Image from Instructables