The Education department signed an agreement with the Tony Blair Faith Foundation (TBFF) yesterday (Aug. 24) for the implementation of an interfaith program in public schools nationwide.
Read here: DepEd signs MoA on religious literacy, BusinessWorld
Education Secretary Armin Luistro, former De La Salle University president, justified the collaboration this way:
"Today there are many cases of extremist acts all over the world… because racial and religious prejudices are not addressed while in the infancy stage."
I get Luistro's reasoning. Ignorance is at the heart of prejudice and fundamentalism, and we use education to transform ignorance to awareness. But I'd like to hear what secularism advocates think about how the cabinet official translated his intention into public policy on education.
Does this feel like "one step forward but two steps backward" for secularism?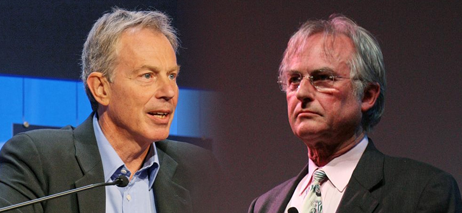 The program, which both parties will tailor-fit to the "Philippine context," is based on the foundation's Face to Faith Project. You can learn more about it from the website itself, but for now, here's an overview:
"Face to Faith is the Foundation's global schools programme, bringing 11 to 16 year olds together using digital technology so they can learn about each other, and about the attitude of different religions to global issues such as the environment, health, art, poverty, and wealth."

— Tony Blair Faith Foundation
Academic materials were developed with the help of the Yale School of Management and the Divinity School.
Apparently, they skipped the fact that atheists, agnostics, apatheists — even humanist antitheists exist. These worldviews do not fit the framework of "religious faith," much less "interfaith dialogue."
So what about us? Are we part of the dialogue too?
"Religion can claim responsibility for some of the most profoundly positive and important events and movements the world has ever known. Yet it has also been associated with some of the most heinous and horrible crimes against humanity."

— Tony Blair
Needless to say, Richard Dawkins was pissed at the former British Prime Minster's initiative. Read the entire article bashing the foundation on his blog.
With so many of the world's problems caused by religion, what better solution could there possibly be than to promote yet more of it?

— Richard Dawkins
Images from Wikipedia