With Ratzinger vacating the papal throne, much has been made of who will be the man (and of course it must be a man) to replace him. In the press conference the CBCP held to talk about how sad they are about Ratzinger resigning the papacy, Father Francis Lucas spoke up for all Filipinos saying that Filipinos would love for the Philippines' own Cardinal Tagle to become the next Pope.
"We Filipinos would like a Filipino to be pope. Any country would be proud of that – that your own cardinal becomes pope," said Lucas, head of the mass media commission of the country's Roman Catholic bishops.

"The ordinary people, they would like Tagle to be pope because he is a Filipino."
When asked about what qualities made Cardinal Tagle a good candidate for the papacy, Father Lucas said, "He is humble, he is meek, he is very bright, he is media-savvy, he is simple."
Maybe Father Lucas should have also mentioned that Cardinal Tagle brings a uniquely Asian way of looking at the sexual abuse crimes that hang over the Catholic church. In a recent interview, Cardinal Tagle talked about how well received his presentation was on how the Catholic Church should handle sex abuses. This is how GMA news reported on this interview:
"You care. You care for the victims… You care also for the abuser who is definitely lost and you do not want the person to continue being lost… This is a very Asian approach. And it is that approach [that] leads to healing, but healing based on justice, based on truth," he added.
Sounds good so far. Cardinal Tagle is talking about justice, which is always good, and healing, too. It's commendable that Tagle speaks of healing not just of the victim but also the abuser. But judging by the track record of the Catholic Church in handling sexual abuses, what exactly does Cardinal Tagle mean?
Well, it turns out that if you watch the rest of the interview that wasn't included in the report, Cardinal Tagle tells you exactly what he means:
"I think for us, legal action, exposing persons, both victims and abusers, to the public, either through media or legal action, that adds to the pain."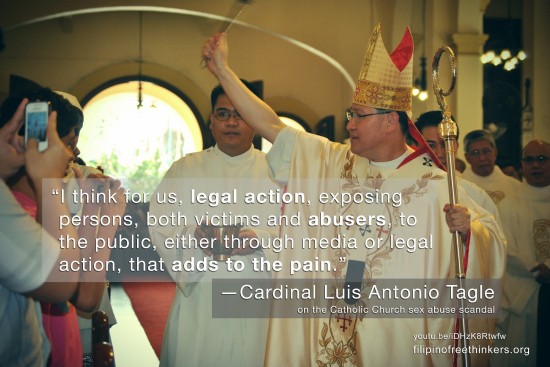 So. You know. Justice and healing for Cardinal Tagle apparently means keeping legal action against the criminal sexual abuser out of the picture. Yep. Meet the possible new boss, who is apparently just the same as the old boss. Do you still think Filipinos would be proud of having Cardinal Tagle as a pope?