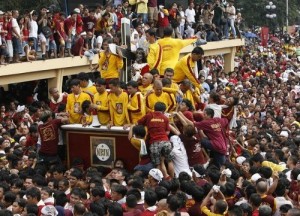 This RockEd Radio episode was supposed to be Dean Jorge Bocobo's commentary on the Black Nazarene, with me chiming in every once in a while.
Well, the Lord works in mysterious ways. Dean never arrived, so I had the whole show to talk not only about the Black Nazarene — which I don't know much of anyway — but atheism and freethinking in general.
But on second thought I didn't get the entire hour. When I was about to say something particularly blasphemous, God cut the power.
Still it's the second longest broadcast of blasphemy in Philippine radio. (Second to John Paraiso's old radio show, of course 🙂 ) Enjoy!
(Thanks so much to Gang Badoy for allowing me to post this.)