Imagine a woman warned by her doctor to refrain from having a fifth pregnancy for medical reasons. She decides to use natural family planning (NFP). Will the bishops of CBCP and their allies question her decision?
Certainly not. As early as 1951, Pope Pius XII in his Allocution to Midwives specifically accepted medical reasons as a justification for birth control. He said:
Serious motives, such as those which not rarely arise from medical, eugenic, economic and social so-called "indications," may exempt husband and wife from the obligatory, positive debt for a long period or even for the entire period of matrimonial life. From this it follows that the observance of the natural sterile periods may be lawful, from the moral viewpoint: and it is lawful in the conditions mentioned.
Now imagine another woman with exactly the same medical reasons who chooses contraceptive pills. To be consistent with their own teachings, one would expect the bishops to simply say: right reason, wrong method. But no, they are now on a war path and have branded the use of contraceptives as treating pregnancy like a disease. In their desire to destroy the status of contraceptives as medicines and its value to public health, it seems they are willing to stigmatize pregnancy prevention as inherently immoral.
In his "contraception is corruption" speech, Archbishop Villegas said: "A contraceptive pill is to be considered an essential medicine. If it is a medicine, what sickness is it curing? Is pregnancy a sickness?" Weeks later, Senator Enrile echoed the same line: "In the case of a contraceptive pill, is pregnancy a disease that needs to be cured? Why do we need to prevent it?"
Sure, pregnancy is not a disease. But pregnancy and childbirth can lead to diseases or injuries. Even bishops must be aware of this fact, which makes their argument sound so contrived. The World Health Organization has a whole chapter listing such diseases and injuries in its International Statistical Classification of Diseases and Related Health Problems. Obstetricians exist to prevent or treat these conditions.
If the bishops of CBCP and the anti-RH camp are not yet convinced that they are stirring up double standards in morality, they should try asking this to any user of NFP: "Is pregnancy a disease to be cured? Why do you need to prevent it?"
A double standard in law is also being pushed by the anti-RH camp. The claim that medicines must cure a disease, or must not prevent normal bodily functions like pregnancy is not supported by our laws.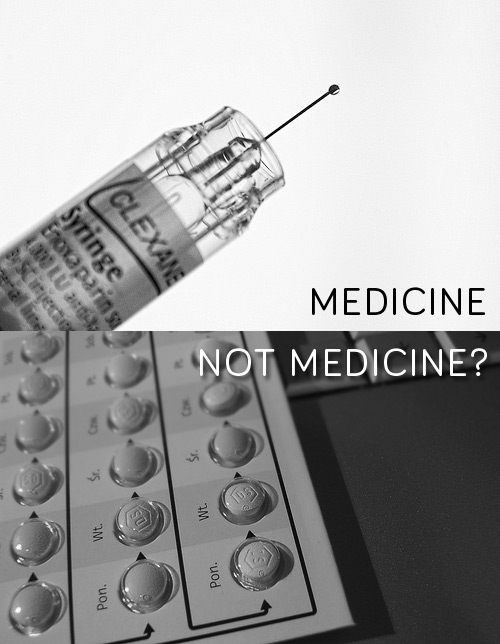 Anti-coagulants and contraception
As far back as the Food, Drug and Cosmetic Act of 1963, drugs have been defined as articles intended "for use in the diagnosis, cure, mitigation, treatment, or prevention of disease," or "to affect the structure or any function of the body." The above phrases are retained in the latest version of that law, the Food and Drug Administration (FDA) Act of 2009. And in case the anti-RH camp will try to claim that medicines are different from drugs, they should read the Universally Accessible Cheaper and Quality Medicines Act of 2008 which defined drugs and medicines the same way, and included "drugs and medicines indicated for prevention of pregnancy, e.g., oral contraceptives" as part of the "List of Drugs and Medicines that are Subject to Price Regulation."
Many substances classified as medicines without any controversy expose the hollowness of the "pregnancy is not a disease" argument. Blood clotting or coagulation is not a disease. Yet we have anticoagulant medicines, commonly used to reduce the risk of heart attacks and strokes. A functioning immune system is not a disease, yet we have medicines that suppress the immune system, a standard fare to prevent organ transplant rejection. Having gastric acid is not a disease, yet we have antacids to manage indigestion.
People do choose to avoid normal or even desirable activities to prevent possible future harm. I'm pretty sure even bishops and anti-RH campaigners do it. We avoid too much sun; avoid too much food; avoid too much reading; avoid crossing streets when overpasses are available. When the path towards harm is clear enough, stigmatizing people who steer away violates plain common sense. Unless the bishops have another brand new standard of common sense.
Double standard in action is my final beef with the "pregnancy is not a disease" argument. In that memorable August 16 Headstart episode [1], TV host Karen Davila asked Senator Tito Sotto if his wife has had a tubal ligation, and this in part is what he said:
She has to be ligated. Because, yes, because she had, how many pregnancies. … She had four cesarean operations. … So, pagkatapos noon, sinabi ng [obstetrician], "You have to be ligated."
A few minutes before in that same interview, when asked why he was against the RH Bill, Sotto's first response was to attack the status of contraceptives as medicines. This is what he said:
Medicine is supposed to be, must cure something. What does a condom cure? What does an injectable cure? What does an IUD cure? So they're not medicines, they're not essential medicines.
A tubal ligation is of course a contraceptive medical procedure, not a medicine. But women fearful of the health consequences of another pregnancy, whether using condoms, injectables, IUDs or tubal ligations to prevent the next one, would surely be hurt by the senator's loaded questions. Sotto attacked the health benefits of contraceptives and admitted to using the health benefits of a contraceptive procedure. The double standard  is simply stunning. Perhaps Sotto should answer Enrile's core concerns: "Is pregnancy a disease that needs to be cured? Why do we need to prevent it?"
[1] All quotes taken by the author from the video.
Images by Alex Brown and anqa, used under the Creative Commons license.