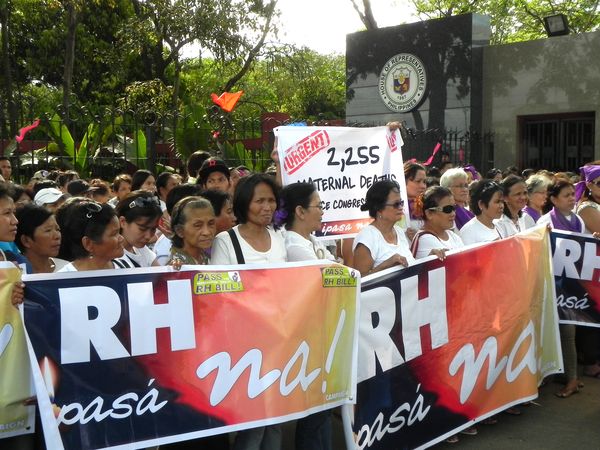 A hundred years after the first International Women's Day, Filipinas still do not have power over events only women face—risks to life and health in pregnancy and childbirth.
Eleven women die each day from maternal complications. Most do not even want to get pregnant; those who do certainly have no wish to die while giving life.
Contraception can stop the deaths of women who have unplanned pregnancies. Women who do want a child can be saved through skilled attendance at birth by midwives, doctors or nurses; and prompt action during complications by health facilities with emergency obstetric care. Young women can protect themselves from sexual coercion and abuse and early pregnancies through accurate and positive sexuality education integrated in the formal school system. All of these measures are key parts of the reproductive health (RH) bill which, after ten years, is still stuck in Congress, obstructed by religious arguments raised by religious forces.
If those who have power routinely die from pregnancy and childbirth, would debates over a legislative policy last a decade? Would there even be reasons for debates?
"The State condemns discrimination against women in all its forms,"proclaims the Magna Carta of Women. This law says that discrimination occurs if "women, more than men, are shown to have suffered the greater adverse effects" of measures or practices.
Obstructing RH services and letting 11 women die each day is discrimination pushed to the extreme. That 90 or so bishops of the CBCP[1] have louder voices than four million women users of contraception and millions more who lack RH services emphasize the gross injustice of it all—a few powerful ultraconservative men imposing their religious beliefs on all women.
In its lengthy pastoral letter on RH, the CBCP said that the "proposed bill in all its versions calls us to make a moral choice: to choose life or to choose death." Completely oblivious of the real life-and-death situation women face during each pregnancy and childbirth, not a word was mentioned about deaths from maternal complications.
Reproduction and the moral choices that women make are things that bishops will never experience. Daily and routinely, women balance the risks, the joys and hopes of having a child, and the realities of being responsible for another human life. The bishops' insistence on the moral superiority of their beliefs based on their claim that they can "rightly guide" women's conscience on reproductive matters reeks of nothing but male arrogance.
March 8 is Women's Day. Sadly, 11 more women will die today, not because we lack the resources, knowledge or means to save them, but mainly because those in power have not yet deemed women's lives as important enough to save.
We have had enough. We affirm the morality of choices women make over their reproductive lives. We condemn the tyranny and discrimination that CBCP and its allies wish to impose on women, and we hold them responsible for the 11 women who die each day.
– statement of RHAN & RH Ipasa Na! campaign on Women's Day
_______________________
[1] Catholic Bishops Conference of the Philippines