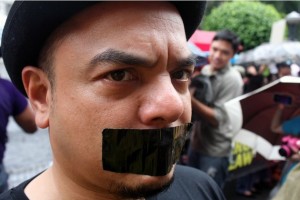 Arguing against the motion "Religion is Good for Us," Carlos Celdran (@carlosceldran) won the Intelligence Squared Asia debate in Hong Kong last Thursday night.
The Filipino cultural activist and performance artist, partnered with renowned Indian commentator and management guru Suhel Seth, went head-to-head with Selina O'Grady (celebrated journalist, historian and author of And Man Created God) and Prof. Azyumardi Azra (director of Syarif Hidayatullah State Islamic University, Jakarta).
Religion is Bad for Us
Celdran and Seth had the task of proving that 'the systematic belief and worship of a superhuman controlling power, especially that of a personal God or gods' is bad for humanity. For Celdran, philosophy and spirituality are not bad for us, but religion is.
"Religion is indeed detrimental to the development of progressive human societies and historically proven to cause terror, fear, guilt, war, genocide, and misogyny," he said in his speech, adding that it is "perhaps one of the most damaging inventions of the human mind."
Read the whole speech here.
2/3 Against Religion
Intelligence Squared debates are done in the traditional Oxford style, wherein the audience is asked to vote before and after the panel's speeches, to see which side has persuaded the most people to change their vote.
The two succeeded in convincing all or most of the initially undecided 32 percent of the audience to join the 31 percent who were initially against, making 63 percent (almost two thirds) of the final votes against the motion. The votes in favor, which started at 37 percent, dropped to 34 percent (about one third). 3 percent were left undecided.
Intelligence Squared Asia (@iq2asia) live-tweeted the event.
Hitchslapping Damaso
"Christopher Hitchens Chic" was how Celdran described his outfit for the debate, channeling the late author who also participated in an Intelligence Squared debate before. Hitchens, one of the biggest critics of religion, argued that the "Catholic Church is not a force for good" along with actor, broadcaster, and author Stephen Fry. (Watch the entire debate here.)
Celdran is no stranger to the Catholic Church. In 2010, he made waves with his infamous "Damaso!" protest against the Church's meddling in government, particularly with regards to the then Reproductive Health (RH) Bill. The Church filed a case against him and he was found guilty of "offending religious feelings."
Meanwhile, with the RH bill now a law and its Implementing Rules and Regulations (IRR) approved, the Supreme Court issued a Status Quo Ante Order that effectively stops its implementation for 120 days. Oral arguments will be held in June.
Sign this petition against the stoppage of RH.
Time to Leave the Church
A recent survey by the Social Weather Stations (SWS) revealed that one in 11 Filipino Catholics considers leaving the Church. It also found that members of the Catholic Church are "less devout and active in attending church services" compared to other religious groups.
The Church finds this unbelievable, saying they can't "accept the statistics without real evidence." There is also no evidence of the so-called Catholic Vote.
Fact: Most Filipinos disagree with the Church's position on RH and divorce, among other issues.
FF Welcomes You
People like Carlos Celdran show us that you don't have to blindly follow your religious leaders and that you can–and should–stand up to them, especially when their stand is in conflict with your conscience.
If you feel like you don't belong in your church group and you can't relate to your religious friends and family anymore, you're welcome in our community. You can join our bimonthly meetups, where you can meet freethinkers like Jong, Miam, and Keisi.
Like our Facebook page and follow @ffreethinkers on Twitter to get updates and announcements.