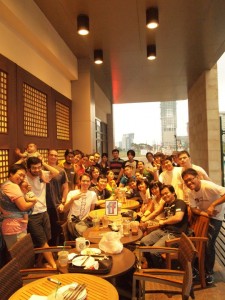 Over the past few months, FF meetups have been garnering an average of 35 attendees, which always includes several newcomers. Last Saturday's meetup at Fort Bonifacio's 32nd Street Starbucks was no different, rife as it was with many fresh faces — including twin babies which, out of sheer delicadeza, our atheist FFers successfully avoided eating.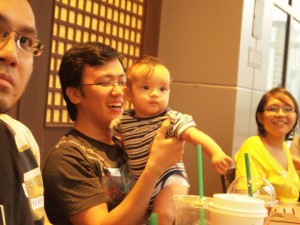 Frank reveals exemplary control of his appetite.
Newcomers included super couple Andre and Delia, an experimental particle physicist and biologist, respectively; their aforementioned twins Julia and Cecilia, who were very well-behaved and disarmingly adowabol; shutter-happy Hombrey; Jojo, a familiar presence in FF's FB pages; and Atty. Florin, to whom we will probably turn in case we get thrown in jail.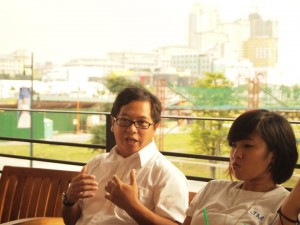 Here is Atty. Florin being all reasonable and lawyerly.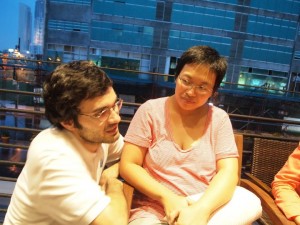 Here are Andre and Delia, charming and outspoken scientists both.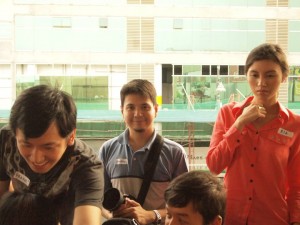 Hombrey takes a break from his paparazzi duties.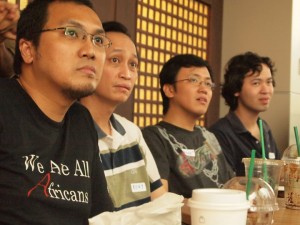 Jojo (extreme left) in the flesh!

Discussions were rich and lively as usual. Among the topics tackled were: whether to share your particular belief about gods and the afterlife (or lack thereof) with a dying person; freethinker-style parenting; how FF members, atheists in particular, felt upon realizing what they currently believe in; and a primer on modern-day Paganism.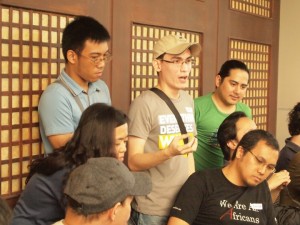 Aldrin and his mesmerizing accent explains Paganism.
The post-discussion mingling and succeeding inuman was just as rowdy —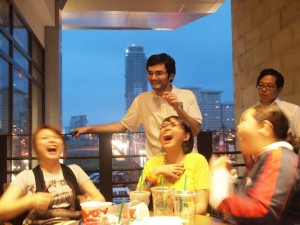 Something tells me we were talking about a penis.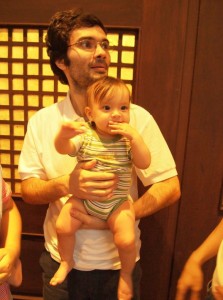 Even Baby Julia is aware of her delicious-ness.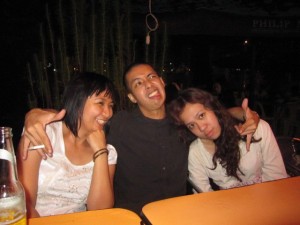 Chris luvz da ladiez.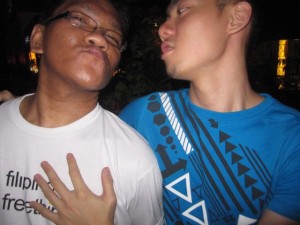 And, well, these two.
Suffice it to say that last Saturday was a success, and will pave the way for more manic meetups in the months to come. Furthermore, FF's motley crew has been growing steadily, and it's refreshing to have such a varied bunch of folks to hang out with on these occasions.
So for those who've always wanted to attend a meetup but have some reservations about going, screw your reservations. The Freethinkers, as the name suggests, are as welcoming as they come, and we hope to see even more fresh faces very soon. Moreso if they have small children.
(Photos c/o of Jeiel Aranal and Chris Siena)