Morality is such a divisive issue. In simple terms, morality is "the quality of being in accord with standards of right or good conduct." The divisiveness lies not in whether an act is in accord with certain standards of right and wrong, but on which standard should the rightness or wrongness of an act be judged.
In society, Church morality and secular morality often come into conflict with each other because their standards, and especially their underlying premises which dictate these standards, are as different as night and day. As such, their moral conflict is essentially a matter of premise, as follows: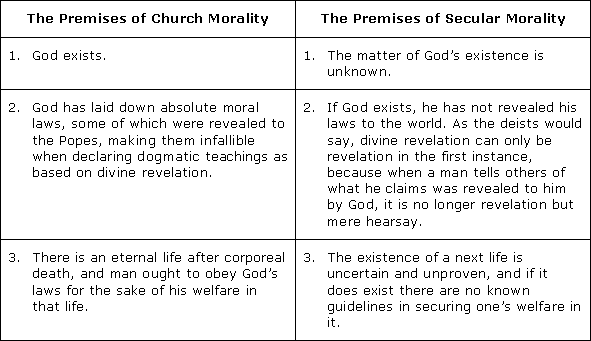 .
With such opposing premises, it is of no great surprise that the Church blames secularism for destroying the morals of society, while secularists accuse the Church of trying to impose a misogynistic and bigoted moral system straight out of the Middle Ages.
For instance, on the issue of birth control, the Church asserts that it is God's will that the unitive aspect of sex cannot be isolated, through man's initiative, from its procreative purpose, meaning sex should not be done only for the sake of pleasure and bonding while avoiding the responsibility that comes with bearing children. And on the issue of gay marriage, the Church insists that God designed marriage to be the exclusive union between a man and a woman.
Secularism, on the other hand, operating on the premise that no one really knows the will of God – assuming he exists – has no objection towards contraceptive sex as long as the state laws on marriage, rape, and abortion are not violated. As for gay marriage, secularism has no opposition to its legalization as long as it is between two consenting adults.
If a moral system is based on the premises of the Church, it is easily justifiable to ban contraception and gay marriages since both are condemned by God, and the pleasures as well as the sacrifices of this life are nothing compared to the potential happiness and suffering in the next. But as the blogger Philosophy Bro once tweeted, "'Because God said so' isn't a bad excuse if He really said so – proving that is the hard part."
Since it is clear to the secularist that this life is the only life we really know exists, welfare and happiness in this life should take precedence over any imaginable but unverifiable condition after death – especially since we have absolutely no idea how to secure an advantage in the next life, if there is one. What's wrong with passionate sex without the possibility of pregnancy if both partners are enjoying it and hurting no one, not even a fetus or a zygote? What's so objectionable about two people of the same gender falling in love with each other and wanting nothing more than to publicly proclaim such love and enjoy the legal rights and benefits of a state-sanctioned union?
These intimacy and relationship issues appear to go beyond the appreciation of the Church hierarchy, who in turn seem intent on imposing a great deal of self-denial on others not only by preaching against hedonistic sex but by actually blocking laws that help poor couples enjoy sex without having more children than they can feed. As Bertrand Russell said, "Religions, which condemn the pleasures of sense, drive men to seek the pleasures of power. Throughout history power has been the vice of the ascetic." Indeed, what can one expect from powerful men whose own institutional tradition bound them to become lifelong virgins?