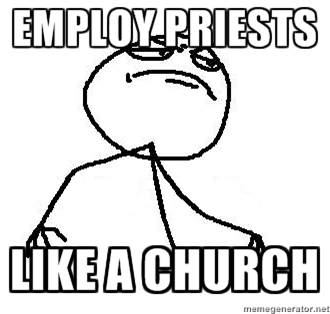 Who is the boss of Catholic priests? The layman and the laity would answer without hesitation: the Catholic Church. But for the Catholic Church — and the lawyers that defend them in abuse cases — the answer is not so obvious. Are they self-employed? Or maybe employed by a higher power?
Whatever the case, the Church's lawyers are sure of one thing: Catholic priests are not employed by the Catholic Church.
Because if the abusive priests are employed by the Church, then the Church as employers can be held liable for crimes committed by priests. The we're-not-the-boss argument has been the foundation of the Church's defense in sex abuse cases all over the world. Refute this and you break down the walls that protect churches from prosecution — all the way up to the Vatican.
And this is precisely what happened on Tuesday:
A British court has ruled that Roman Catholic priests are equivalent to employees, a decision that could pave the way for victims of sexual abuse to win damages from the church…

Tuesday's ruling involved a 47-year-old woman who says she was sexually assaulted by the Rev. Wilfred Baldwin when she was living in a Catholic children's home in Portsmouth, in southern England.

The church argued that Baldwin was not an employee, an argument rejected by Justice Alistair MacDuff.

The judge noted that Baldwin was appointed by and on behalf of the diocese to do their work. "He had immense power handed to him by the defendants," the judge wrote in the ruling. "It was they who appointed him to the position of trust which (if the allegations be proved) he so abused.

The woman's case is being tried in December, when another judge will have to make a further decision about the church's liability, MacDuff said. "I only have to decide whether the nature of the relationship is one to which vicarious liability may — I emphasize 'may' — attach," he wrote.

Vicarious liability is a legal doctrine that holds employers responsible for the actions of employees in some circumstances.
Proving that priests are employed by the Church is just the first step. But if vicarious liability is attached, it will completely demolish the we're-not-the-boss defense in this case, setting the precedent for hundreds of sex abuse cases all over the world, paving the way for prosecutors to face the final boss: Pope Benedict XVI.
Until then, victims of clerical sex abuse will continue to suffer, the public will remain ignorant of the covered up crimes, and the Catholic Church will continue denying responsibility, blaming its employees and their victims (like a boss).