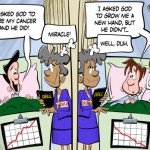 I don't know…maybe it's a good way to escape dilemmas. We call it here in the Philippines as "pa-pogi points". Obviously, majority of their cult followers are either dumb or stupid to figure it out. But try reading Christian apologist reactions here in the Internet and you will notice that they are not answering questions. They are just …well …it sounded more like senseless, pretentious babbles ("ngak-ngak!") to me.
One good example can be found on how a certain Eliseo Soriano tried to answer one of atheism simple inquiry, "Why won't God heal amputees"?
First Mr. Soriano called the question as "stupid". Hmmmm…so since you can't answer the question, it becomes stupid huh? But I don't blame Mr. Soriano, it's a common Christian apologist tactic. Norman Giesler called the Paradox of the Stone as a meaningless question.
Now let us tackle the question "Why won't God heal amputees?"
Bible idolaters believe that a pious Christian can ask God anything. Nothing is impossible to God (if it exist). Jesus Christ is even too generous to provide us his explanation. According to Jesus, "Therefore I tell you, whatever you ask for in prayer, believe that you have received it, and it will be yours." (Mark 11:24)
Now in this scenario, a Christian prayed hard to God to make his severe limb grow back again…something like a lizard's tail or a crab's claw.
Christians agree that God works in a mysterious, supernatural way. Now, when we talk about supernatural, we're talking about events not considered to be normal…hmmmm just like a miracle. Something is said to be supernatural if it's beyond any scientific explanation. If a person's severe limb grows back, well…we can consider it a supernatural event.
The Bible is full of these alleged supernatural acts of God. Talking donkeys, sticks that turned into living snakes, dead people rising from the grave, iron ax head that floats on water and people walking on water… Sure sounded like things from that T.V. show The X-Files, right? Anyway, a severed arm growing back may be considered a supernatural miracle. Any person who doubts the existence of a god will sure buy the whole shebang if he will see some feat like that.
Now how many times an atheist will tell these Christian charlatans, "justifying God's existence just by reading Bible chapter and verses will not achieved anything." If a guy rationalize the existence of a god base on Biblical fairy-tales…well that will automatically make the reality of Spider-Man and The Batman possible. So an event such as a growing arm replacing a lost one will surely be a hit! Not only does a god proved his powers to his devouted, delusional followers but also proved his existence beyond reasonable doubt.
Bear in mind the Bible claim that 1.) Nothing is impossible to God, 2.) That faith can move mountains and 3.) Prayer works.
Yet until now, there is no such event. Even sites said to be phenomenal such as Fatima and Lourdes, there is not a single case of an amputee miraculously been restored a new leg or arm. Not even a detached finger! Even in the pages of the Bible, you will by no means find a story of an amputee growing back any lost limbs (yet dead guys walking out of the grave like zombies are too numerous). Christian evangelists and apologists would love to tell non-believers about the power of their god by telling stories of how supernaturally the Red Sea parted and how the Sun stops moving, yet you won't find a single case of God regenerating a severed arm or leg of his favorite people. So is that such an impossible act for an all-powerful, omnipotent God?
So sorry to dissapoint you Mr. Soriano but the question is still not answered. Your long and dull explanation and biblical canting haven't satisfies the inquiry. Oh and by the way, the question is not stupid as you have indicted. The reply needs a good explanation…and giving a very lengthy Bible apology is a very shoddy way of dodging the issue.