This is Bishop Pueblos, he got quite a nice car from Gloria Arroyo! It was his birthday you see. It wasn't just him though. A few of his other friends got nice shiny cars too!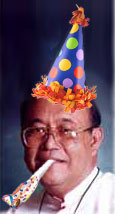 Happy happy Birthday, to you!
This is his shiny new car. People are angry with Bishop Pueblos and his friends at the CBCP now. His friends at the CBCP are sorry. Sorry for making people sad anyway. They're not really saying sorry for what they did. They're not really sorry to the country from which the funds came to buy those shiny new cars. They are sorry that their momma church got hurt though. Aww. Wawa you.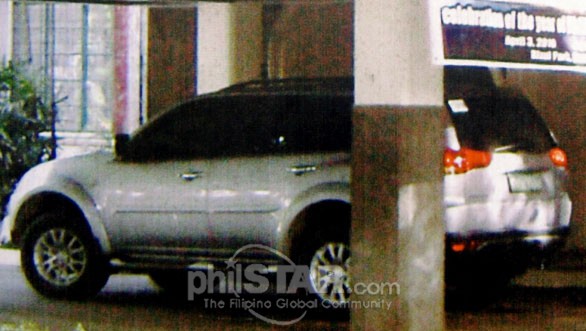 Photo shows a Mitsubishi Montero parked outside the house of Butuan Bishop Juan De Dios Pueblos at the St. Peter Seminary in Barangay Ampayon, Butuan City. BEN SERRANO, source Philippine Star.
But hey, you know what Bishop Pueblos said? He'll return the SUV. He says he'll even ride a small vehicle if necessary! Wow, what a guy folks. Uhm. Anything about an apology, Pueblos? Oh, what's that? He remains defiant? Oh.
Well, since he's defiant, perhaps I can help him out. He needs a theme song to keep that swagger right? To show the people who's boss? Hey! I know the perfect song for him!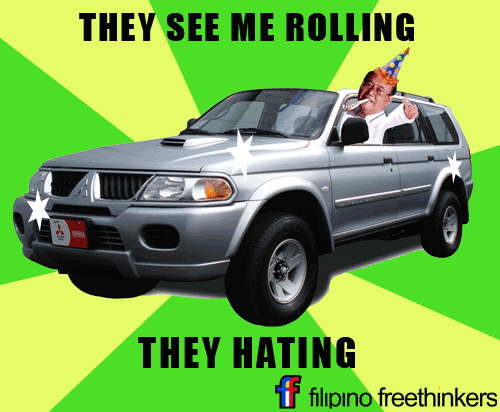 Tryin' to catch me ridin holy