Red Tani called out Eric Manalang for lying at the Ang ProLife COMELEC party-list accreditation hearing. But don't just take his word for it. We have video footage of the hearing.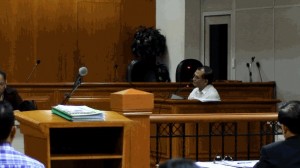 As an aside, its interesting to note that the presiding judges, the Hon. Lucinito Tagle and the Hon. Elias Yusoph, were involved in the Commission on Election's boneheaded decision to violate church-state separation by rejecting the Ang Ladlad partylist on religious bases. I'd hope at the very least they would learn their lesson on the separation of church and state from the Supreme Court when it overturned the COMELEC decision.
Besides Ang ProLife not even coming close to the requirements for a party-list, establishing Ang ProLife as one is tantamount to establishing a political entity in Congress that represents religious interests. A party-list that would be intent on enshrining their religious values in our laws. A party-list that wishes to use the force of law to impose their religious morals on the entire country.