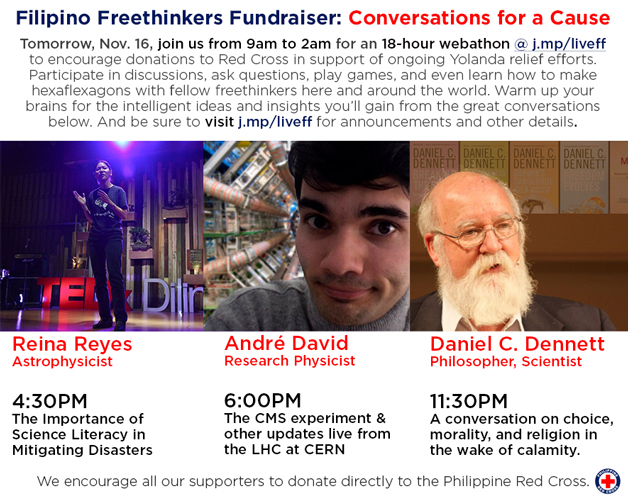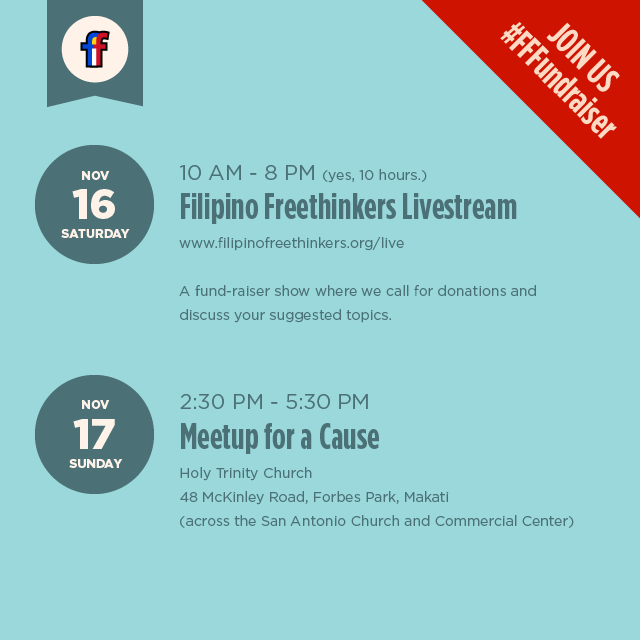 The super typhoon Haiyan (Yolanda) left in its wake thousands dead, injured, and missing. Even more have lost their homes and lost contact with family members. Estimates of damage in the agricultural sector alone are almost 4 billion Pesos. Victims of Haiyan in Visayas and neighboring regions are in need of food and drinking water, among many other necessities.
Filipino Freethinkers urges everyone that can help to give what they can. On Saturday, November 16, 2013, we will be live streaming a show, hosted by FF President Red Tani, to get the freethinking community in the Philippines and in the world to raise funds to support those affected by this horrific tragedy. The show will be available on Twitch as well as our site.
From 10 AM to 8 PM, we will be aggregating pledges donated directly to the Philippine Red Cross, either online, bank deposit, or through SMS via Smart or Globe. Donors will receive a tracking number from the Red Cross and we encourage freethinkers around the world to tell us how much they donated. We will also be counting donations by freethinkers to other charities of their choice, such as the Citizens' Disaster Response Center.
Donors of any amount will get a shout out during the live broadcast.
Donors of P1,000 and above will get to have their topic of choice (not necessarily typhoon/relief related) discussed live by FF. Freethinkers can donate even before the live show. Email us the charity, the amount donated, and the tracking number (if available) at [email protected] and we will add it to the tally. You can also message us through Facebook or join the conversation on Twitter using #FFFundraiser as the hashtag. Share with us how you and others can help.
Join us on November 16, 10 AM to 8 PM live on Ustream. Help our fellow Filipinos in this time of crisis.
About Philippine Red Cross: The Philippine Red Cross is a secular charitable institution that "endeavors to prevent and alleviate human suffering wherever and whenever it is found."

About Citizens' Disaster Response Center: The Citizens' Disaster Response Center is a secular non-governmental organization that promotes "community-based disaster management in the Philippines." It has been chosen by the American humanist charity Foundation Beyond Belief as its recipient of $10,000 in support of relief efforts in the Philippines.
On Sunday, November 17, 2013, we will be hosting a regularly scheduled meetup at the Episcopalian Holy Trinity Church.
Location: Holy Trinity Church, 48 Mckinley Road, Forbes Park, Makati
Date: Sunday, November 17, 2013
Time: 2:30pm – 5:30pm
Google Map: http://goo.gl/wCMAl
Topics
– Effective Altruism
– Looting During Disasters
During the meetup, we will also be coordinating donations from FF members. We will be donating these contributions to the Philippine Red Cross. Material donations will be delivered to LBC, which the Red Cross will also receive. Please note, though, that charities have items such as old clothes in excess.