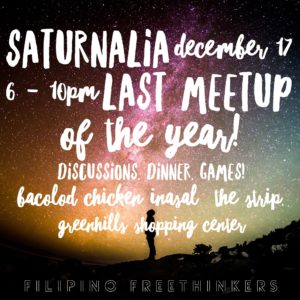 Facebook Event Link
Venue: Bacolod Chicken Inasal, The Strip, Greenhills Shopping Center, North Western St., San Juan, Metro Manila, Philippines
Date: Sunday, December 17, 2017
Time: 6:00 PM – 10:00 PM
Come join us on the last meetup of the year!
Discussion, dinner and games!
* Newbies are welcome, and admission to the meetup is free. (Note: this does not apply to the food and other activities we may be having)
* Early birds get to play board/video/party games with the group.
* Look for the FF sign (or the group of smart, sexy people).
* There is no required age, religion, philosophy, or IQ level.
* Discussions are informal yet intelligent (most of the time).
* You don't have to talk; you can just sit in and listen.