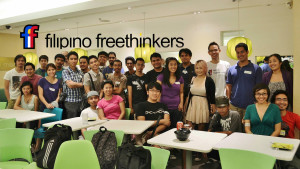 Location: Moshi Moshi, Regis Center Katipunan
Date: Sunday, Dec. 1, 2013
Time: 2:30pm – 5:30pm
Google Map: http://goo.gl/eEjqTd
Topics:
1) The Boundaries of Feminism http://www.thedailybeast.com/articles/2013/11/21/despite-what-you-think-miley-cyrus-and-rihanna-are-feminists.html
2) Self and Selfies http://skepchick.org/2013/11/selfies/ and http://mashable.com/2013/02/15/social-media-and-the-selfie/?utm_cid=mash-com-Tw-main-link
3) ShallowShaming (shaming people who go through plastic surgery, use whitening products, take selfies, don't read, watch shallow shows, etc.)
4) Shaming Selfishness http://omg.yahoo.com/blogs/celeb-news/kim-kardashian-latest-charity-move-incites-fury-174603145.html
5) Shaming Pseudoscientists http://www.newrepublic.com/article/115533/rupert-sheldrake-fools-bbc-deepak-chopra
6) Raunchy Topic of the 'A' Week
After the meetup we usually go for dinner and drinks somewhere nearby. If you're not a meetup regular and can't make it for the meetup but would like to go for the post meetup, please indicate on a post in the wall or comment so we can contact you.
Got questions about the meetup? Contact us at 0927 323 3532
* Newbies are welcome, and admission is free.
* Early birds get to play board/video/party games with the group.
* Look for the FF sign (or the group of smart, sexy people).
* There is no required age, religion, philosophy, or IQ level.
* Discussions are informal yet intelligent (most of the time).
* You don't have to talk; you can just sit in and listen.