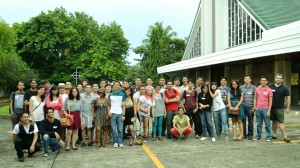 RSVP on Facebook (optional)
Location: 7th Floor, Amberbase Solutions, Eastwood Cyberpark, Bagumbayan, Quezon City, 1110
Google map: http://g.co/maps/eprjn
We're meeting in Eastwood, Quezon City. Please head to the Amberbase Solutions building reception and say you're going to the Filipino Freethinkers meetup on the 7th floor.
Discussion Topics:
Boycotting the Russian Olympics
Building a Better Secular Movement
Social Media: Sadness and Stalking
Rebranding Bigotry: St. Francis and friendly fundamentalism
Raunchy Topic of the Week: Sex in a Progressive Future
After the meetup we usually go for dinner and drinks somewhere nearby. If you're not a meetup regular and can't make it for the meetup but would like to go for the post meetup, please indicate on a post in the wall or comment so we can contact you.
Got questions about the meetup? Contact us at 0927 323 3532
Admission is free!
Newbies are welcome.
Look for the FF sign (or the group of smart, sexy people).
There is no required age, religion, philosophy, or IQ level.
Discussions are informal yet intelligent (most of the time).
You don't have to talk; you can just sit in and listen