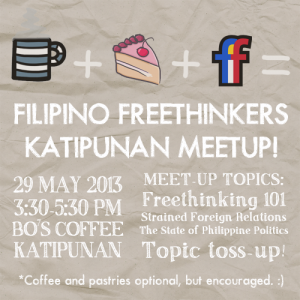 Event: Filipino Freethinkers – Katipunan Meetup
Date: Wednesday, 29 May 2013
Time: 3:30 PM to 6:30 PM
Place: Bo's Coffee, Katipunan
Meet-up topics:
– Freethinking 101
– Strained Foreign Relations
– The State of Philippine Politics
– TOPIC TOSS-UP! Got a topic under your belt? Bring it to the table! We'll vote which topic to talk about last.
Can't make it to the meet-up? After the meet-up, we usually go for food and a few drinks, where we continue some of the topics or talk about random things. You also get to know the attendees better.
Got questions about the meetup? Contact us at 0915 307 8657.
* Newbies are welcome.
* Look for the FF sign (or the group of smart, sexy people).
* There is no required age, religion, philosophy, or IQ level.
* Discussions are informal yet intelligent (most of the time).
* You don't have to talk; you can just sit in and listen.
* You don't have to be from Katipunan or a school in Katipunan. As long as you can make it, you're welcome.
* Please abide by the code of conduct.