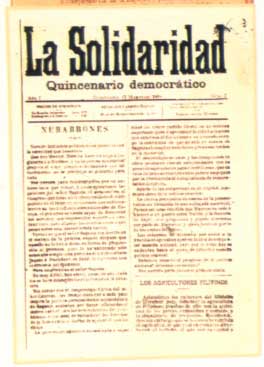 Many of you have said you'd like to help Carlos in his case — he's been found guilty of offending religious feelings. On the legal side, he has decided to appeal the case instead of bargaining for probation, essentially telling all of us that, no, he's not guilty, and he'll fight this all the way to the Supreme Court if he has to.
But in terms of taking to the streets, we — fellow advocates and supporters of Carlos — are still discussing the most strategic course of action in terms of being as brave and effective as Carlos was while not jeopardizing his case. Rest assured that we will go to the streets (or even inside certain buildings) when the time is right, and we'll let everyone know when we're ready.
For now, we can support Carlos not by fighting but by celebrating. He's hosting a La Solidaridady Walk to celebrate Rizal's fight for freedom this Sunday (February 10) at 4pm. He's already posted details of the event on his site:
Wanna walk with me in Luneta Park on February 10, at 4pm. Meet me under the trees at the Agrifina Circle in front of the steps of the National Museum of the Filipino People. and let's make pasyal to celebrate Jose Rizal's FIGHT for Freedom.

Let's dress up as our favorite Rizalian era characters or whatever you cosplay character you wish, and let's look at old photos of Luneta online on our iPhones and Androids, and capture this day on instagram, twitter, tumblr or facebook and FREELY upload it online so the world can see the awesome new renovations of our national park. We'll hashtag #rizalpark #freedom #luneta

We'll check out the new dancing fountain, the larger than life Philippine Map, the newly renovated gardens, and photograph ourselves in a "DAMASO" Rizal Derby Hat inside our Damaso Photobooth at Art Park!

We'll cap the walk with a visit to the site where Jose Rizal was shot back in 1896. Of course, we'll stop and have street food along the way.

Oh and this tour is FREE. YES. As in FREE. It's my way of supporting the Rizal Park's efforts in revitalizing Manila's premier public space and supporting Rizal's fight for FREEDOM. Mabuhay and Kalayaan!

Visit The National Museum and see the Spolarium before the walk to complete your Manila day. :o)

Text 09209092021 or email [email protected] to confirm.
Oh. And dogs are welcome to tour. Dogs in costumes even more.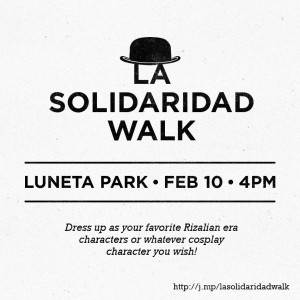 Many have already shown interest in going, so not only will you be there to support Carlos, you'll meet the allies you'll be marching with when the time comes. And if there's a fun (and free!) way to start preparing for that inevitable day, this solidarity walk is it.