MANILA, Philippines—It was recently discovered that the Philippines is the world's most emotional country. This has sparked many violent reactions from the Filipino community, most notably from those who drown themselves daily in celebrity drama on television. The following are some tweets that were collected a few hours after the findings were released to the public:

The process behind the research was reportedly very complex, involving nanobots being installed into subjects' eyes through their pupils. These small robots measured the tear level of the subject and compiled their measurements into tiny nanoreports. These were then transmitted wirelessly using their itty bitty nanocomputers. The original procedure, which involved installing WiFi adapters directly into subjects' brains, was scrapped in favor of this one. The stated reason was that too many subjects were exhibiting death upon installation of the new hardware, prompting the researchers to speculate that the human brain was not as compatible with computer hardware as previously thought.
The nanobots were also able to determine the exact reasons for sudden surges in emotion. The following pie chart illustrates how strongly the five most common reasons affect people: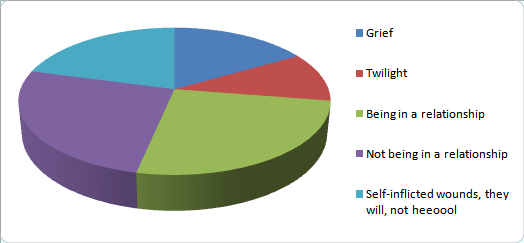 The whole Philippine government was reportedly so enraged that it decided to have a BF (Bureau of Feels). "We will oversee all the emotions in this country and ensure that they always fall within accepted bounds," says BF Spokesperson Lino Luha. Their proposed method of measuring public feelings is mandatory annual heart-weighing for all Filipino citizens.
According to Luha, the budget for the Bureau of Feels will be allotted as soon as the commissioner and the financial officer find it in themselves to put the past behind them and start talking to each other again. When asked exactly what past he was talking about, Luha declined to answer and instead ran out of the room, sobbing uncontrollably with his palms to his face.