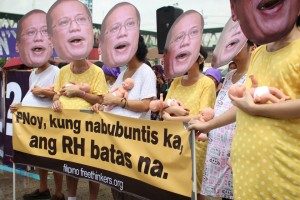 23 July 2012, Quezon City – Members of secularist group Filipino Freethinkers (FF) posed as pregnant versions of Philippine President Benigno "PNoy" Aquino III outside the Batasang Pambansa Complex as the former held his third State of the Nation Address (SONA) indoors. The demonstrators wore blown-up PNoy masks and housedresses, carried baby dolls, and bore a banner that read: PNoy, kung nabubuntis ka, ang RH batas na (PNoy, if you could get pregnant, RH would be a law by now).
FF's demonstration alludes to the President's failure to prioritize the passing of the Reproductive Health (RH) Bill into law. Despite the bill's inclusion as a priority measure by the Legislative-Executive Development Advisory Council (LEDAC) in 2011, the President has continued to ignore the delaying of its passage by anti-RH legislators. FF claims that if the President himself could literally get pregnant, he would better understand the bill's overwhelming positive impact on Filipinas and speed up its passage.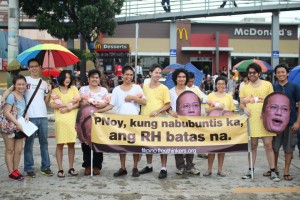 "Considering how PNoy has been ignoring the RH issue, we highly doubt that he'd mention it at all in today's address," says FF President Red Tani. "This is grossly negligent of him, as 12 women die each day due to maternal complications, and Filipinos in general are not properly educated on their reproductive rights. An RH law is an intrinsic part of our nation's quest for true progress; we cannot let PNoy forget this."
—
Filipino Freethinkers (FF) is the largest and most active organization for freethought in the Philippines. Freethought is a way of thinking unconstrained by dogma, authority, and tradition.
Every one of FF's efforts aims to promote reason, science, and secularism as a means of improving every Filipino's quality of life. The group wishes for everyone to live free of ignorance and oppression—in a society where they are able to act and think for themselves, and in a country where religion and governance are clearly and permanently separated.
You may reach the Filipino Freethinkers through our contact page.
—
Photos c/o Frank III Manuel