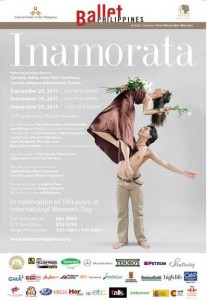 To celebrate 100 years of International Women's Day, Ballet Philippines will stage Inamorata:
Ballet Philippines presents INAMORATA, which highlights the versatility and range of the country's premier professional ballet and contemporary dance company. Celebrating the many Faces of Eve, it shows classical pieces like "The Dying Swan" and all new pieces by the country's top choreographers like Alden Lugnasin and Denisa Reyes. Guest artists include sopranos Rachelle Gerodias and Camille Lopez Molina, while fashion designers Rajo Laurel, Ito Curata, Jojie Lloren and Lulu Tan Gan design the costumes.
I'm most interested in seeing "Everywoman," an advocacy piece about the sexual repression of women, dramatized by a woman, a serpent, a pope, and several priests. Here's what one reader had to say:
It's choreographer Denisa Reyes's take on women's rights- choosing what is best for their bodies and ultimately a better life for themselves. It is also a reaction to all these outrageous banners posted outside churches and other anti-RH Bill institutions pronouncing that supporting the RH Bill is a sin against god. On the other hand, her piece proclaims that being against sex education and reproductive health measures/choices is a sin against women. I think the piece can send a very powerful message that comes from the ones directly and wholly affected by the presence or absence of the bill – the Filipino women.
From what I've heard about "Everywoman" and Inamorata it should be a great way to celebrate International Women's Day. Do consider going, and tell your friends, too. In case you're interested, here are the details:
Venue : CCP Main Theater
Time : 3:00 pm
Date : Sep 24, 25 2011
Time : 8:00 pm
Date : Sep 23, 24 2011
Tickets: P1000 | P800 | P700 | P500 | P400 (Evening Shows)
P600 | P500 | P400 | P300 | P200 (Matinee Shows)
Thanks for the tip, Russ and Adrienne. 🙂