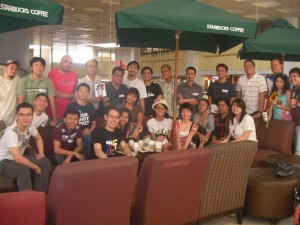 RSVP on Facebook
You know it's already late when the mall guard asks you to go home. Especially when you're not even inside the mall anymore.
Two Sundays ago, a Shangri-la guard asked five Filipino Freethinkers to leave the taxi waiting area. It was past 2 am. We were continuing a discussion that had started at Agave, a restaurant we also left reluctantly after we'd finally noticed the waiters closing shop.
FF meetups. Some people just couldn't get enough of them. I'm sure there would have been more than five of us in that waiting area if it weren't for stupid school and work the following day.
But what if we had meetups on Saturday? Let's find out.
Saturday FF Meetup
Date: May 29, 2010 (Saturday)
Time: 1:00pm – 4:00pm (right…)
Location: Starbucks (near cinemas) at Shangri-la Mall
Agenda:
* Polyamory
* Banning the Burka
* The ethics of eating meat
* Dr. Craig Venter's Synthetic Cell
* The ethics of genetic engineering
* Atheist Solidarity Day ideas
* In one minute: your talents and hobbies