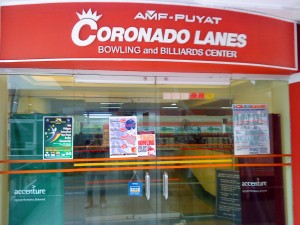 Understanding Newton: Bowling and Billiards
Sunday, May 31, 1-4PM
AMF-Puyat Coronado Lanes, 4/F Edsa Starmall (accessible from Shangri-la mall via MRT station bridgeway)
P70+/game, P25/shoe rental. They have packages that'll get us cheaper games, but there'll have to be at least 12 of us to get it. And they have better deals for when there's more people. Since at that time we'll have the place to ourselves (few customers), we can just meet there at 1PM and figure out the best deal.
You don't have to play. You can just come to chat or eat (there's a Magoo's Pizza inside).
See you on Sunday!
P.S. On Meetups
Starting next Sunday (June 7), we'll have our meetups regularly at Starbucks, Shangri-la (6th floor, near the cinemas). By Saturday the agenda for the meetup and the estimated headcount will be posted on the website, so you'll know what to expect if you come. At the very least you can expect that I'll be there and we can talk about anything. (Unless of course there's another activity scheduled, like this Sunday.)